Omiya Bonsai Art Museum [
大宮盆栽美術館

]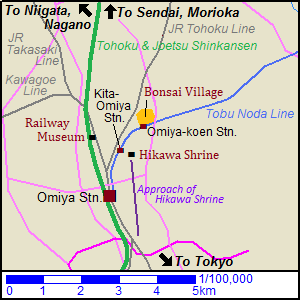 Bonsai is a Japanese art form using cultivation techniques to produce small trees in containers that mimic the shape and scale of full size trees.
It was an art created in China around 7th to 9th century, then it was imported to Japan.
And it has developed in Japan.
Now, fanciers of bonsai increase in the world.
Ordinary potted plants can only be appreciated for a short time, but bonsai needs the periods ranging from decades to centuries.
So, special cultivation methods are used for this.
Omiya Bonsai Village (大宮盆栽村) is located about 2 km northeast of Omiya station, and is at the north side of Omiya-koen station on Tobu Noda Line.
The area has five gardens of bonsai producer.
So, Japanese and foreign bonsai lovers visit here.
And, there is Omiya Bonsai Art Museum to the north of the area.
Many good bonsais which had been owned by some collectors are displayed.
(Photography and video recording are prohibited inside the building.)
And there is a Japanese garden in the site, and some bonsais are arranged in the garden.
In addition, "Great Bonsai Festival" is held in Omiya Bonsai Village from May 3rd to 5th every year.
A lot of bonsais are sold in the village.
How to get here
About a few minutes walk from Omiya-koen station of Tobu Noda Line.
From Omiya to Omiya-koen, about 4 minutes by train of Noda Line.
Hotels around Omiya
Other Tourist Attractions in Saitama Prefecture