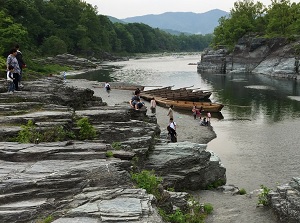 Iwadatami of Nagatoro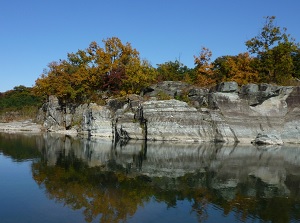 Chichibu-sekiheki of Nagatoro
Nagatoro gorge is a gorge on the upper part of Arakawa River which flows through central Saitama Prefecture and the east part of Tokyo Metropolis.
This gorge is located about 25 km west of Kumagaya city and about 11 km north of Chichibu city.
And it is about 80 km northwest of central Tokyo.
The gorge is about 6 km long.
The width of the river is 20 to 50 meters, so it is not so narrow.
But there are various rocks and cliffs which are geologically interesting, so it was designated as a national nature treasure and a beauty spot in 1924.
The most famous spot of this gorge is Iwadatami (岩畳).
Along the river, a huge layer of metamorphic rock is exposed.
And it forms a wide riverbed.
"Iwadatami" means "tatami mats of rock", and it looks like the place paved with many Japanese tatami mats.
There is a rocky cliff on the opposite side of the river.
It is called Chichibu-Sekiheki (秩父赤壁).
The height is about 20 meters and the length of the cliff is about 500 meters.
"Sekiheki" means "red wall" or "red cliff".
It is a historical spot of cliff near Yangtze River in China. (A famous battle occured there in 208 A.D.)
So this similar cliff in Nagatoro was named after the spot.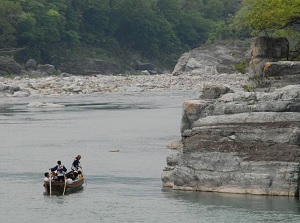 Nagatoro boat cruising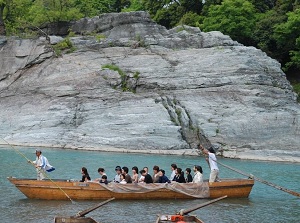 Cruising boat of Nagatoro
We can see these spots from small boat.
Two boatmen operate the boat in the rapid stream of Arakawa River, so we can enjoy the scenery with thrill.
Two routes of cruising are operated.
One is from Oyahana-bashi bridge to Iwasatami, and another is from Iwadatami to Takasago-bashi bridge.
Both are operated from the upstream side to the downstream, and each section is about 3 km.
It takes 20 to 30 minutes.
Mount Hodo (Hodosan) (
宝登山

)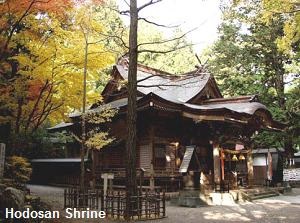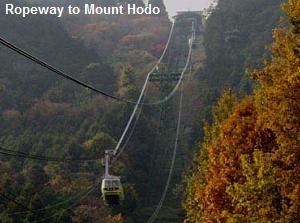 There is Mount Hodo about 2 km west of the center of Nagatoro.
It is 497 meters above sea level.
At the foot of the mountain, there is Hodosan Shrine (宝登山神社).
It is one of three main shrines in Chichibu region, and it is founded in the early 2nd century in legend.
We can go up to the top of the mountain by ropeway.
From the top station of the ropeway, about 700 meters to the observatory of the mountain.
We can see Nagatoro and Chichibu basin from the top.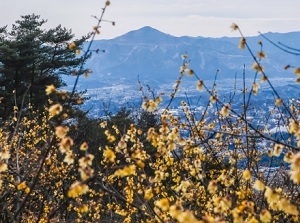 Scenery from Mt.Hodo and ume blossoms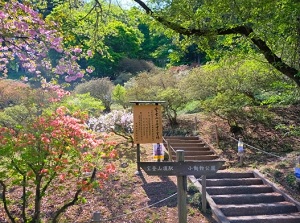 Way to branch shrine of Hodosan Shrine
On the way to the top, there are the branch shrine of Hodosan Shrine and a zoo of small animals.
And, ume blossoms, cherry blossoms and azaleas are beautiful around the top in spring.
How to get here
Get off at JR Kumagaya station.
About 40 minutes from Tokyo by Joetsu Shinkansen, about 70 to 75 minutes from Tokyo or Shinjuku by local train of JR Takasaki Line.
Then, change to the train of Chichibu Railway.
About 40 minutes from Kumagaya to Nagatoro station.
Hotels around Nagatoro
Other Tourist Attractions in Saitama Prefecture