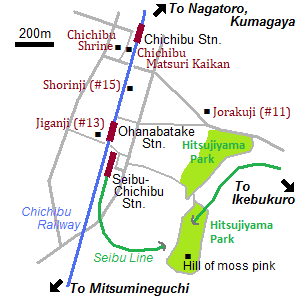 1) Chichibu Shrine 2) Chichibu Matsuri Kaikan
3) Hitsujiyama Park
4) [11] Jorakuji [13] Jiganji [15] Shorinji
Chichibu city is located in the center of Chichibu region, and is located about 55 km east-northeast of Saitama city.
The central area of the city is in a small basin surrounded by hills and mountains, and Arakawa River flows through the city.
In 708, copper ore was found at the north part of this city, then Empress Genmei issued Japan's first coins made of its copper.
Since the 17th century, silk textile industry has developed around this city.
Additionally cement manufacturing has developed since the early 20th century.
Because, Mount Buko to the south of the city yields limestone abundantly.
In the central area, there are some sightseeing spots.
And Nagatoro gorge is about 11 km downstream from central Chichibu city.
Chichibu Shrine (
秩父神社

)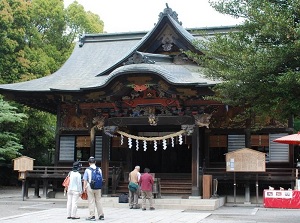 Chichibu Shrine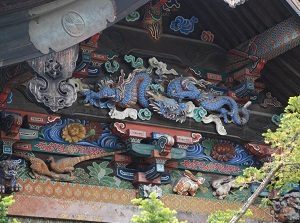 Carvings of Chichibu Shrine
Chichibu Shrine is a Shinto shrine located in the center of the city, and is near Chichibu station of Chichibu Railway.
In the mythology, it was founded in 87 B.C. (Of course, it is not clear.)
But this shrine has been the center of Chichibu region since ancient times.
Yasuhito (1902-1953), one of the brothers of the Showa Emperor (1901-1989), has been enshrined here in 1953.
He has been called "Prince Chichibu".
This shrine has many vibrant carvings on its walls.
The annual fastival of this shrine are held from December 1st to 6th every year.
Especially the events held in the 2nd and 3rd days are famous as Chichibu Night Festival.
Chichibu Matsuri Kaikan (
秩父まつり会館

)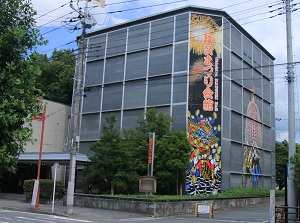 Chichibu Matsuri Kaikan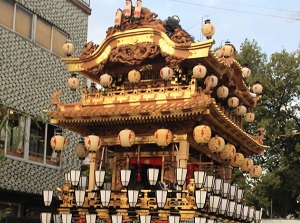 Float for Chichibu Night Festival
Chichibu Matsuri Kaikan is the museum introducing the Chichibu Night Festival, and is located just east of Chichibu Shrine.
This festival was registered as a UNESCO intangible cultural heritage, one of the "Yama, Hoko, Yatai, float festivals in Japan" in 2016.
The real decorated floats used in the festival and many other materials about the festival are displayed.
Additionally, the videos of the festival are always played.
So you can see the festival here.
Hitsujiyama Park (
羊山公園

)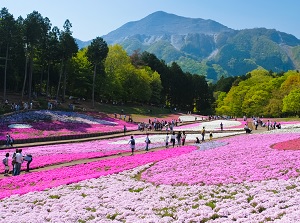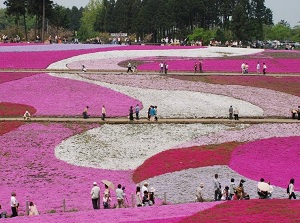 Hitsujiyama Park is a park on a hill located about 0.6 km east of Seibu-Chichibu station of Seibu Line.
Its total area is 30 hectares.
In about 60 percents of the area, moss phlox is planted.
A lot of bright pink, red and white flowers cover the hill.
We can enjoy the beautiful scenery from early April to early May.
34 Temples for Chichibu Pilgrimage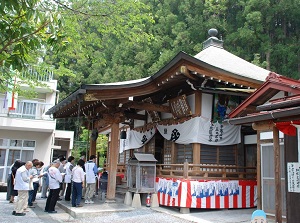 Jorakuji (No.11)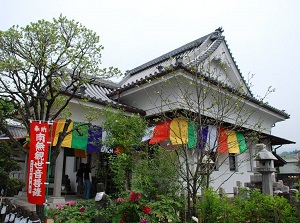 Shorinji (No.15)
In Japan, there are some local pilgrimage routes.
This is the pilgrimage visiting the 34 temples enshrined statues of the Goddess of Kannon around Chichibu city.
It is said that this pilgrimage began around the 13th century.
The following temples are close to above sightseeing spots.
I suggest that you make a short visit there.
[No.11] Jorakuji temple (

常楽寺

) : It is located just north of Hitsujiyama Park.
[No.13] Jiganji temple (

慈眼寺

) : It is near Ohanabatake station of Chichibu Railway.
[No.15] Shorinji temple (

少林寺

) : It is located about 200 meters southeast of Chichibu shrine.
How to get here
By limited express "Chichibu" on Seibu Line, about 1 hour and 20 minutes from Ikebukuro in Tokyo to Seibu-Chichibu station.
By Chichibu Railway, about 50 to 65 minutes from Kumagaya.
Until Kumagaya, about 40 minutes from Tokyo by Joetsu Shinkansen.
Hotels in Chichibu city
Other Tourist Attractions in Saitama Prefecture