Oarai Isosaki Shrine (
大洗磯前神社

)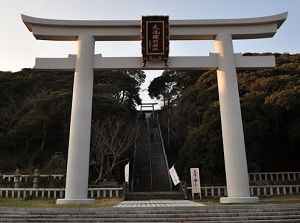 Entrance of Oarai Isosaki Shrine
Photo by Railstation.net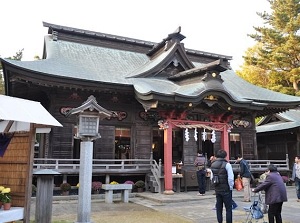 Main shrine of Oarai Isosaki Shrine
Photo by Railstation.net
Oarai Isosaki Shrine is a Shinto shrine on a hill near the coast of Oarai town.
The first "o" in "Oarai" is pronounced long, so it is read as "Ôarai".
Oarai town is located about 10 km southeast of Mito city, and faces the Pacific Ocean.
There is a large fishing port and a ferry terminal, and a sea-bathing beach is near the port.
The shrine is located about 3 km east of Oarai station of Kashima Rinkai Railway.
It is to the northeast of Oarai Port.
It is said that Oarai Isosaki Shrine was founded in 856.
According to legend, a god descended here at the end of the year, so the shrine was built.
In the 16th century, the shrine was devastated by wars.
But, Tokugawa Mitsukuni (1628-1701), the 2nd lord of Mito Domain, rebuilt the new shrine in 1690, and his son completed the site.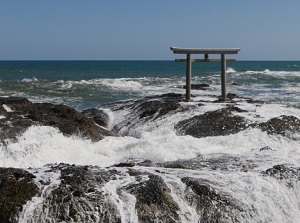 Kamiiso-no-Torii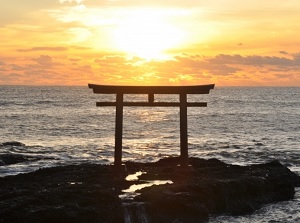 Sunrise at Kamiiso-no-Torii
There are three Torii gates on the approach to the shrine.
Especially, Kamiiso-no-Torii (神磯の鳥居) is very popular.

It is just at the foot of the hill of the shrine. and stands on a rock near the coast where waves come and go.
It is said that the god descended at the place, and this Torii was constructed in 1963.
It is a symbol of sacred spot rather than a gate of the shrine.
Because we are facing east, we can see the solemn sunrise through the Torii.
How to get here
By railroad, from Mito, get on the train of Kashima Rinkai Railway.
It takes 14 minutes to Oarai station.
Then, by route bus, about 16 minutes from the station to Oarai-Isosaki-jinja-shita stop.
(When you walk from the station, it takes about 40 minutes.)
Other Tourist Attractions in Ibaraki Prefecture