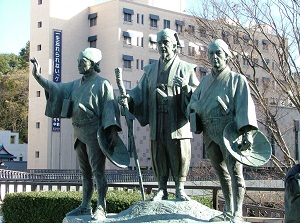 Statues of traveling Mito-Komon and retainers
Photo by Railstation.net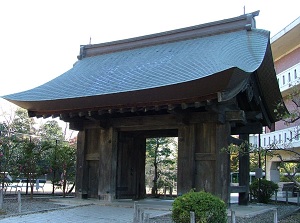 Remaining gate of Mito Castle
Photo by Railstation.net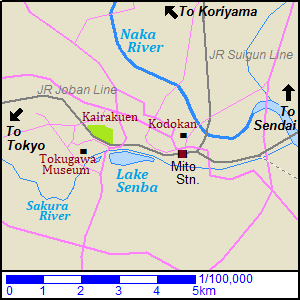 1) Kodokan 2) Kairakien 3) Lake Senba
4) Tokugawa Museum
Mito is the city located roughly in the center of Ibaraki Prefecture.
It is the prefectural capital.
In the late 12th century, a castle was built in this city.
Since that, here became the central town in this area.
After Tokugawa Ieyasu was founded the Edo government in 1603, he ordered that Tokogawa Yorifusa, one of Ieyasu's sons, governed this area.
Then, Mito became one of the important domains governed by Shogun family.
Tokugawa Mitsukuni (1628-1701), the 2nd lord of this domain, is famous as a good ruler in Mito.
He implemented various positive policies, worked towards the protection of the cultural properties, and compiled the national history.
Therefore, many playwriters had created the exaggerated fictions about him since the late 19th century.
It is the standard story that he makes a tour around the country with two strong samurai retainers under an incognito, exposes the dishonesty of the bad officials who have oppressed ordinary people wherever they visit, and punishes them as a vice-Shogun.
(He uses even faithful Ninja as a spy in some dramas!)
He is called "Mito-Kômon" by nickname, and its TV drama had hit screen for more than 40 years in Japan.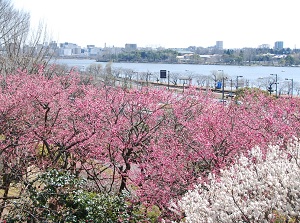 Lake Senba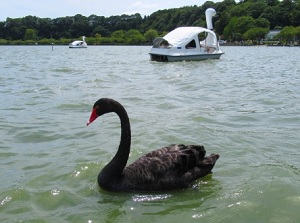 Black swan in Lake Senba
There is Lake Senba (千波湖) in the center of the city.
It is about 33 hectares wide, and the length of lakeside is about 3 km.
Along the northern lakeside, Sakura River flows.
The area around the lake is a wide park.
Various waterfowls live in the lake.
Especially, black swans are unique.
Kôdôkan school (
弘道館

)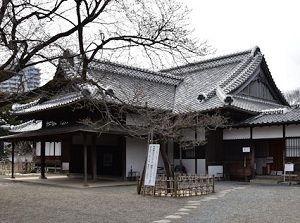 Main building of Kodokan
Photo by Railstation.net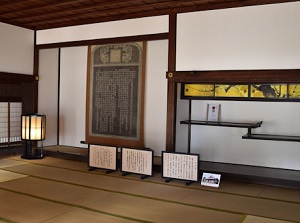 A room in Kodokan
Photo by Railstation.net
Kodokan school is the former school for Mito Domain, and is located 0.5 km north of JR Mito station.
Both "o"s in the word are pronounced long.
In 1841, it was founded by Tokugawa Nariaki (1800-1860), the 9th lord, in the site of Mito castle.
(Mito castle was built in the late 12th century and was demolished in 1871.)
Kodokan was a school like current university, so humanities, social science and natural science had been educated and researched.
But this school had said "We should spend lifetime to learn."
So this school had no graduation, and it is said that young men and old men had learned there together.
After the foundation of new Meiji government, it was closed in 1872.
In the site, some buildings of the school remain.
And the whole site has become a park, and there area many trees of ume (Japanese apricot).
Kairakuen garden (
偕楽園

)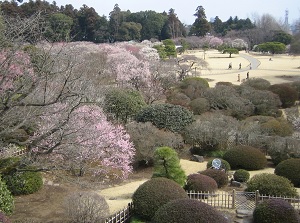 Kairakuen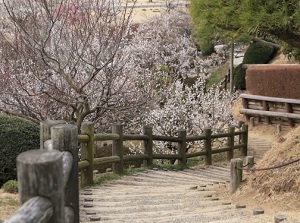 Ume blossoms in Kairakuen
Kairakuen is a Japanese garden located about 2 km west of JR Mito station.
It is one of the Three Famous Gardens in Japan, along with Kenrokuen in Kanazawa city and Korakuen in Okayama city.
It was built by Tokugawa Nariaki in 1842.
It is about 13 hectares wide, and the 3,000 trees of ume (Japanese apricot) are famous.
When the Ume Festival from late February to end of March is held, many tourists visit here.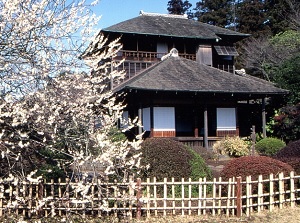 Kobuntei in Kairakuen
Photo by Ibaraki Prefecture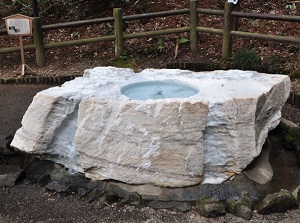 Togyokusen in Kairakuen
Photo by Railstation.net
There is Kobuntei (好文亭) in the garden.
It was a villa of Tokugawa Nariaki, and built in 1841.
But it was destroyed by fire in the U.S. air raid in 1945, then was restored in 1958.
And, in the forest, there is Togyokusen spring (吐玉泉).
It had been said that the water was effective against eye disease.
Tokugawa Nariaki set up the marble facility for drawing the spring water and the water was used for the tea ceremony in Kairakuen.
Tokugawa Museum (
徳川ミュージアム

)

Tokugawa Museum is located about 0.7 km southwest of Kairakuen.

In this museum, the materials about Tokugawa Family in Mito are displayed.
How to get here
From Tokyo, by JR limited expresses "Hitachi" or "Tokiwa", about 1 hour and 15 to 25 minutes.
Other Tourist Attractions in Ibaraki Prefecture