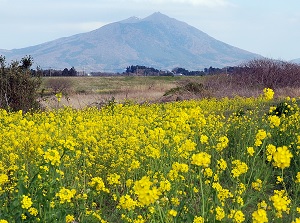 Mount Tsukuba
Photo by Ibaraki Prefectural Government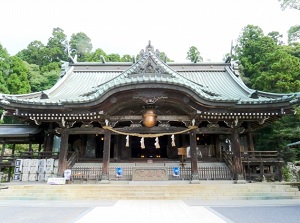 Tsukubasan Shrine
Mount Tsukuba ("Tsukubasan" in Japanese) is a beautiful mountain.
It is located about 70 km north-northeast of Tokyo, and is the only mountain in wide Kanto Plain.
It has two peaks, and the eastern peak is Nyotai-san (meaning "female body", 877 meters high) and the western peak is Nantai-san (meaning "male body", 871 meters high).
Kanto region is the urbanized area, but the nature in the central part of Mount Tsukuba is preserved as a quasi-national park.
Since ancient times, it has been the object of mountain worship.
So there are Shinto shrines on both tops of the peaks.
These are the shrines of Tsukubasan Shrine (筑波山神社).
There is the main shrine on the southern mountainside, and there are the town with some hotels and ryokans around the shrine.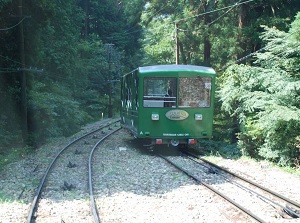 Cable car to Nantai-san

Around Nantai-san peak
From there, a cable car to Nantai-san peak is operated.
(The station is "Miyawaki".)
Around the peak of Nantai-san, there is the observatory facility.
There are restaurant and souvenir shop in the facility.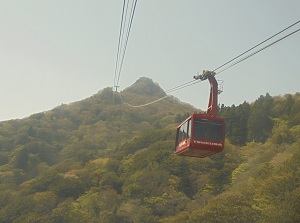 Ropeway to Nyotai-san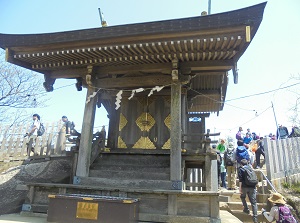 Tsukubasan shrine on the top of Nyotai-san
And, from the mountainside located about 2 km northeast of the town, a ropeway to Nyotai-san peak is operated.
(The station is "Tsutsujigaoka".)
How to get here
From Akihabara to Tsukuba terminal, about 50 minutes by Tsukuba Express Railway.
Then, from Tsukuba terminal, by route bus, about 40 minutes to Tsukuba-jinja-iriguchi (Miyawaki), about 50 minutes to Tsutsujigaoka.
Other Tourist Attractions in Ibaraki Prefecture