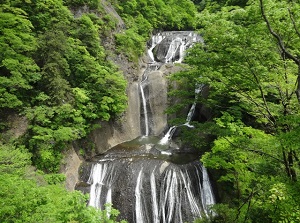 Fukuroda Falls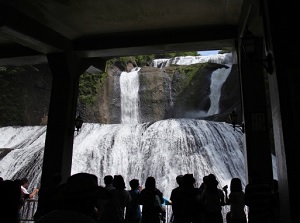 New observatory of Fukuroda Falls
Fukuroda Falls is located in the northern part of Ibaraki Prefecture.
It is located about 45 km north of Mito city and is about 5 km east of the center of Daigo town.
In Japanese, it is called "Fukuroda-no-taki".
It is a waterfall in the Takigawa River which is one of the tributaries of Kuji River.
(Kuji River flows into Pacific Ocean.)
The length of the widest part is 73 meters.
The falls consist of four consecutive waterfalls and the height is 120 meters.
This falls are popular as one of the most beautiful waterfalls in Japan, along with Kegon Falls in Nikko and Nachi Falls in Wakayama Prefecture.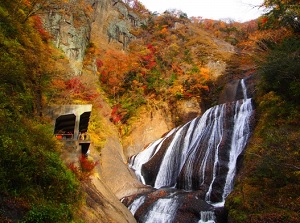 Falls & new observatory from old one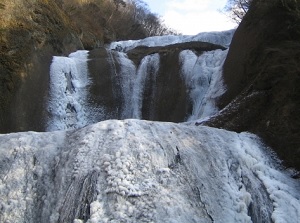 Frozen Fukuroda Falls in winter
In very cold winter, the falls freeze.
There are two observatories for the falls.
We can reach there after passing through a tunnel for pedestrians. (The fee is 300 yen.)
The old observatory is in front of the third fall.
From here, we cannot see the first fall.
The new observatory opened in 2008 is located about 50 meters above the old one.
It has three decks and we can see the whole waterfalls from there.
To visit the new observatory, only the elevator in the tunnel is used.
How to get here
From Mito to Fukuroda station, about 1 hour and 20 minutes by local train of JR Suigun Line.
From Fukuroda station, about 15 minutes by route bus.
But, the bus is operated only 4 times a day.
The distance from Fukuroda station is about 3 km, so it is a way to walk for 45 minutes.
Hotels in Mito city
Other Tourist Attractions in Ibaraki Prefecture