Hitachi Seaside Park (
国営ひたち海浜公園

)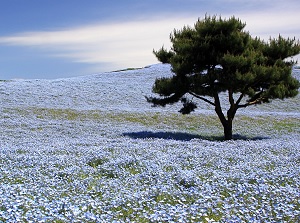 Nemophila in Hitachi Seaside Park
Photo by Ibaraki Prefecture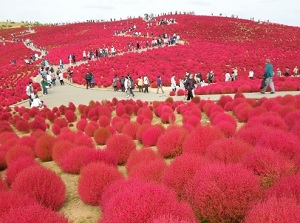 Kochia in Hitachi Seaside Park
Hitachi Seaside Park is one of National Government Parks in Japan.
In Japanese, it is called "Kokuei Hitachi Kaihin Koen".
It is near the coast in Hitachinaka city and is located about 6 km east of Katsuta station of JR Joban Line.
And it is located about 11 km east-northeast of Mito city.
The site is 1.3 km from east to west and 1.7 km from north to south.
Main gate is on the west side of the park, and south gate is on the south side.
The park is divided into seven areas focusing on different themes.
In each area, there are wide flower garden, grass field, forest, pond.
In addition, there is a small amusement park and some areas for outdoor sports.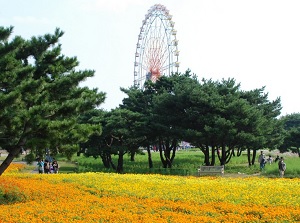 Flower garden and amusement park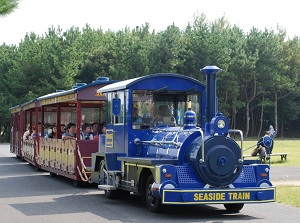 Bus for moving in Hitachi Seaside Park
Recently, the beautiful scenery of wide flower garden is becoming popular.
Especially, Nemophila in spring and Kochia in autumn are known in the world.
Including them, you can enjoy various beautiful flowers throughout the year.
The main flowers are the following.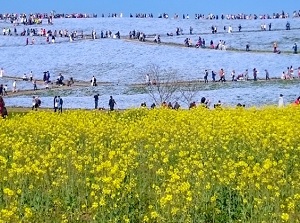 Rape blossoms & Nemophila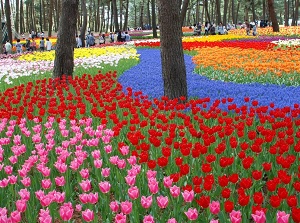 Tulip
Spring
Rape blossoms, Daffodil (March to April)
Cherry blossoms (early April)
Tulip (April)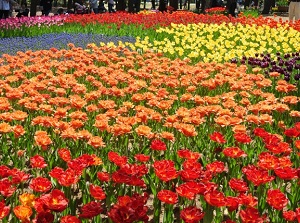 Poppy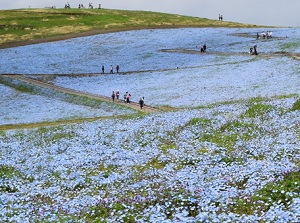 Nemophila
Late spring
Nemophila (Late April to May) Poppy, Linaria (Late May)
Rose (Late May to June)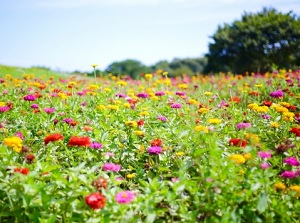 Zinnia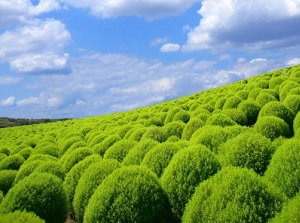 Green Kochia
Summer
Rose (Late May to June)
Lavender (Late June to early July)
Zinnia (July to September)
Green Kochia (July to September)
Sunflower (August)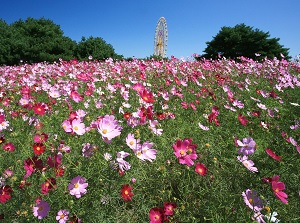 Cosmos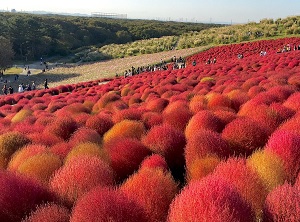 Red Kochia
Autumn
Pampas grass, Cosmos (Sepember to October)
Red Kochia (October)
Chrysanthemum (October to November)
Rose (November)
Winter
Ume (Japanese apricot) blossoms (Jaunary to March)
Ice tulip (January)
How to get here
From Tokyo to Katsuta, by JR limited expresses "Hitachi" or "Tokiwa", about 1 hour and 20 to 30 minutes.
Then, by route bus, about 15 minutes to the main gate.
Other Tourist Attractions in Ibaraki Prefecture