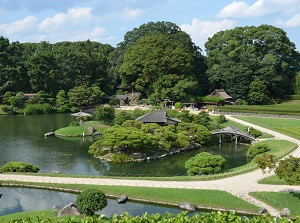 Korakuen
Photo by Okayama Korakuen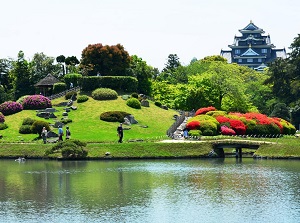 View of pond & Okayama Castle in Korakuen
Photo by Okayama Korakuen
Korakuen is a Japanese garden by Asahi River, and is located about 1.5 km east of JR Okayama station.
There is Okayama Castle on the opposite side of Asahi River.
"O" in the word is pronounced long, so it is read as "Kôrakuen".
It is one of the Three Famous Gardens in Japan, along with Kairakuen in Mito city and Kenrokuen in Kanazawa city.
This garden was constructed by the order of Ikeda Tsunamasa (1638-1714), the 2nd lord of Okayama Clan.
The construction started in 1687, and the garden was completed in 1700.
The garden was bought by Okayama Prefecture in 1883, and was opened to the public next year.
At that time, the garden had retained its original structure.
But, in the early 1940s, World War II worsened the food situation in Japan.
So, the parts of lawn in the garden were diverted to potato fields.
Additionally, several old buildings in the garden were destroyed by US air raids in June, 1945.
After the war, the Allied Occupation forces used this garden as the space of houses, and they also constructed a pool there.
After withdrawal of the Allied Occupation forces, Okayama Prefecture restored the garden at great cost.
The restored garden was opened again in 1954, and the reconstruction completed in 1967, at last.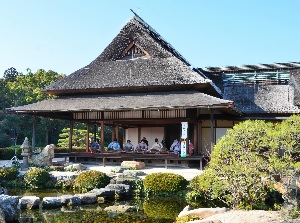 En'youtei in Korakuen
Photo by Okayama Korakuen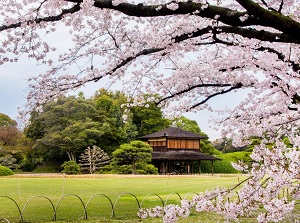 Korakuen in spring
Photo by Okayama Korakuen
This garden is on a wide riverbed along Asahi River, and is about 13.3 hectares in area.
There is a large pond in the center of the garden, and En'youtei (延養亭) by the pond.
It was the main house for the lord and was restored in 1960.
"Noh" stage is next to the house.
Lawn, other two small ponds, winding streams, forests are set up in the site of the garden.
And guest houses and tea houses are dotted.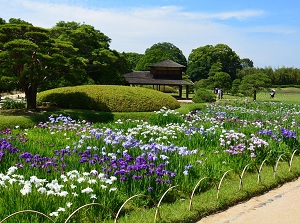 Korakuen in early summer
Photo by Okayama Korakuen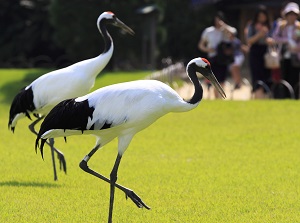 Korakuen in spring
Photo : Okayama Prefectural Tourism Federation
Until the early 20th century, wild red-crowned cranes had visited this garden.
But the number of them had decreased greatly.
In 1956, two red-crowned cranes were sent from China.
Since that, they has been bred in this garden and a few facilities of Okayama Prefecture.
We can see the cage.
On New Year's Day, a few red-crowned cranes are put out to the garden.
How to get here
By streetcar for Higashiyama, get off at Shiroshita stop.
About 5 minutes from Okayama station.
About 800 meters walk from there.
Other Tourist Attractions in Okayama Prefecture