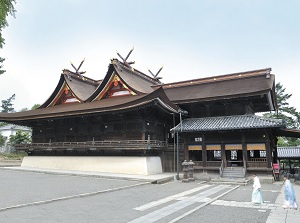 Main shrine of Kibitsu Shrine
Photo : Okayama Prefectural Tourism Federation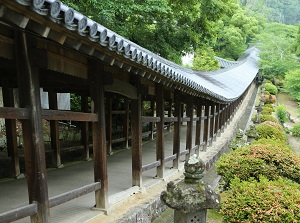 Long corridor in Kibitsu Shrine
Photo : Okayama Prefectural Tourism Federation
Kibitsu Shrine is a Shinto shrine.
It is located about 8 km west of the center of Okayama city.
It is unknown when this shrine was founded, because there is no record about the foundation.
There are some mentions that this shrine existed in the middle of the 9th century in an old history book.
But all of the excavated objects in this shrine were the ones after the 12th century, then it seems that the original buildings of this shrine were built around the time.
The main shrine is one of the largest shrines in Japan.
The original building was destroyed by fire, then the current building was rebuilt in 1425.
It is designated as a national treasure.
The style of the building is unique, and two gables are on the roof.
And the building has a long corridor rebuilt in 1597, and the length is about 360 meters.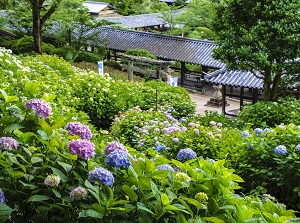 Hydrangeas in Kibitsu Shrine
Photo : Okayama Prefectural Tourism Federation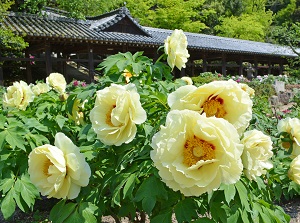 Peonies in Kibitsu Shrine
Photo by Okayama Visitors &
Convention Association
This shrine has a legend.
Long, long ago, a big demon "Ura" 4 meters tall came from a distant country, and he lived in a castle in a mountain.
He was very brute and ate human flesh.
So the people around this area had trembled with fear.
The government sent a brave man named "Kibitsu-mikoto" to exterminate the demon.
He set up a camp around the current shrine, and called Ura.
Ura appeared, and Kibitsu-mikoto shot an arrow at Ura.
But all arrows had fallen down in front of Ura.
He hit on a good idea, and he invented a bow which can shoot two arrows at one time.
He shot two arrows with the new bow.
Then an arrow fell down but another arrow hit Ura's left eye.
Ura's blood made a river.
Ura changed to a pheasant and flew.
Kibitsu-mikoto changed to a hawk and chased Ura.
Next, Ura changed to a carp and escaped into a river of his blood.
But Kibitsu-mikoto changed to a cormorant, and caught Ura in the river at last.
Kibitsu Shrine is on the camp of Kibitsu-mikoto.
Of course, this story is a legend.
In addition, it is said that old tale of Momotaro which is the symbol of Okayama Prefecture was created from the legend.
Kinojô (
鬼ノ城

)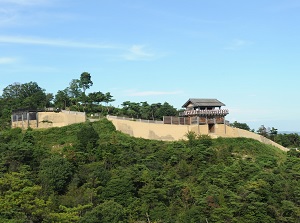 Kinojo
Photo : Okayama Prefectural Tourism Federation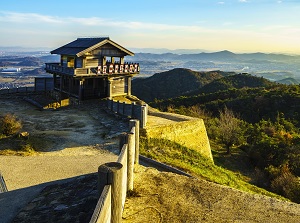 View from Kinojo
Photo : Okayama Prefectural Tourism Federation
Kinojô is the ruins of old castle, and is located about 10 km northwest of Kibitsu Shrine as the crow flies.
It is said that Ura lived in this shrine in the legend, and "Kinojô" means "Demon's Castle".
The castle is on the top of a mountain which is 397 meters above sea level.
On the east side of the mountain, a small river flows.
The name is Chisui River, and it means "Blood sucking".
It was also named after the legend of Ura.
As a matter of fact, it is assumed that the castle was built in the late 7th century.
In 663, the allied forces of Japan and a southwestern country in Korea were completely defeated by the allied forces of China and a main country of Korea in Korean Peninsula.
So, Japanese government built many defensive facilities in western Japan.
It is thought that Kinojô was one of the facilities.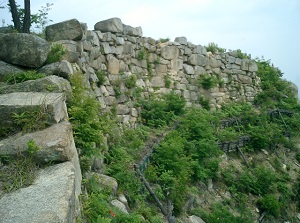 Remain of stone wall in Kinojo
Photo : Okayama Prefectural Tourism Federation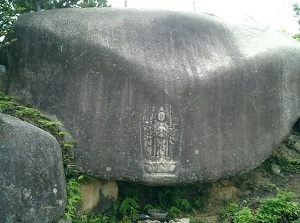 Rock with carving in Kinojo
Photo : Okayama Prefectural Tourism Federation
The ruins of a castle have Korean-style stone walls about 6 meters high.
The stone walls surround the site of castle, and the total length is about 2.8 kilometers.
Remains of four gates, some buildings, a well, etc. have been excavated from the site.
There is the Visitor Center to the 400 meters west of the ruin, and there is tha museum about Kinojô.
How to get here
By local train of JR Kibi Line, about 15 minutes from Okayama to Kibitsu.
Then, About 10 minutes walk from Kibitsu station. (about 600 meters)
To Kinojô, the nearest station is Hattori station of JR Kibi Line.
By local train for Soja, about 35 minutes to Hattori, about 43 minutes to Soja from Okayama.
From Hattori station, there is no route bus, so you must hike for about 5 km.
From Soja, you can use a taxi and reach Visitor Center for about 20 minutes.
Hotels around Kibitsu Shrine
Other Tourist Attractions in Okayama Prefecture