Bitchu-Kokubunji temple [
備中国分寺

]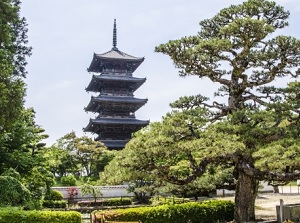 Bitchu-Kokubunji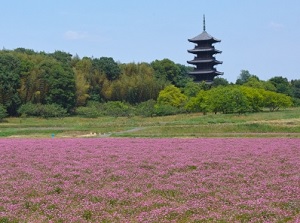 Bitchu-Kokubunji & Chinese milk vetch
Bitchu-Kokubunji is a Buddhist temple in Soja city.
It is located about 5 km east of JR Soja station and about 8 km west of Kibitsu Shrine.
And, it is about 8 km north of Kurashiki city and about 13 km west of the center of Okayama city.
"Bitchu" is the old name of the west part of Okayama Prefecture.
And, Kokubunji is the temple which was built in each province by the order of Emperor Shomu (701-756).
This temple was founded as Kokubunji in Bitchu province in 741.
Now it is the temple of Shingon Buddhism, one of the major schools of Japanese Buddhism.
The original temple was destroyed by fire in the middle of a civil war in the 14th century.
After that, this site had been a ruin for a long time, but it is said that the current temple was rebuilt around the 1710s.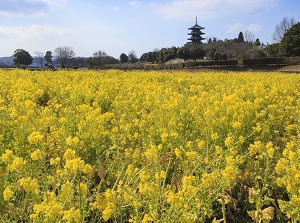 Bitchu-Kokubunji & rape blossoms
Photo : Okayama Prefectural Tourism Federation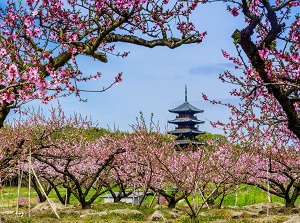 Bitchu-Kokubunji & cherry blossoms
Photo : Okayama Prefectural Tourism Federation
The five-story pagoda is the symbol of this temple and was rebuilt in the 1840s.
The height is about 34 meters, and it is the only five-story pagoda in Okayama Prefecture.
This temple is on the flat land, and there is no high building around the temple.
So, the five-story pagoda strikes the eye.
We can see the pagoda in the scenery of idyllic farming area.
Especially, in spring, the scenery with yellow rape blossoms, pink Chinese milk vetch, cherry blossoms, etc. is very good.
How to get here
By local train of JR Hakubi Line, to Soja station, about 30 minutes from Okayama, about 11 minutes from Kurashiki.
From Soja station, by taxi, about 10 minutes.
Route bus is not frequent. Rental bicycle is available.
Other Tourist Attractions in Okayama Prefecture