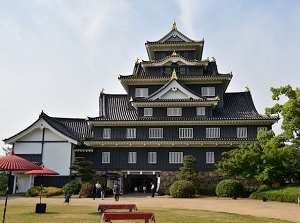 Okayama Castle
Photo by Railstation.net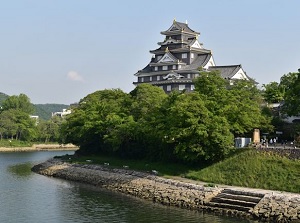 Okayama Castle by Asahi River
Photo by Railstation.net
Okayama Castle is located about 1.7 km east of JR Okayama station.
Asahi River flows on the northeast side of the castle.
And there is Korakuen garden on the opposite side of the river.
It is said that the original castle was built in the middle of the 14th century.
In the 1590s, the castle was renovated, then it became the current style of architecture.
After the end of feudal period in 1868, the new Meiji Government demolished many castles in Japan because the castles were unnecessary for the modern state.
By 1882, only a few buildings remained, and the other buildings had been demolished.
The remaining buildings were designated as national treasure.
When the World War II was near its end, Okayama city was destroyed by US air raids in June, 1945.
At that time, the castle tower and an old gate were destroyed.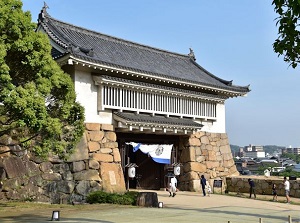 Main gate to the castle tower
Photo by Railstation.net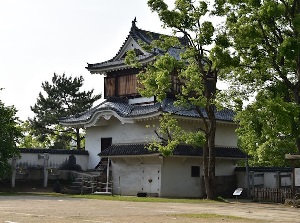 Tsukimi-Yagura in Okayama Castle
Photo by Railstation.net
The site is a folding fan shape and the radius is about 220 meters.
The northeast side faces Asahi River and there is a moat on the west and south sides.
Now the site of the castle is a park.
The castle tower is in the north part and was rebuilt in 1966.
Because it is a rebuilt construction, so it isn't a national treasure now.
The inside of the castle tower is the museum and there is the obserbatory room on the highest floor.
The castle tower is unique.
Because, unlike most castles, the exterior walls of the castle tower is black.
So the nickname of this castle is "Crow Castle" (In Japanese, "Ujô" [烏城]).
In addition, most castles in Japan are on high bases with stone walls, but the base of this castle is relatively low.
To the west of the castle tower, there is "Tsukimi-Yagura" turret (月見櫓).
It is an original building in the castle and was built in the 1610s or 1620s.
How to get here
By streetcar for Higashiyama, get off at Shiroshita stop.
About 5 minutes from Okayama station.
About 600 meters walk from there.
Hotels around Okayama Castle
Other Tourist Attractions in Okayama Prefecture