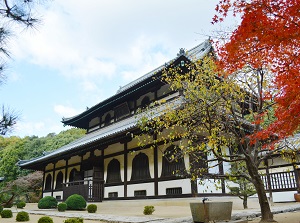 Butsuden of Sogenji
Photo by Okayama Visitors &
Convention Association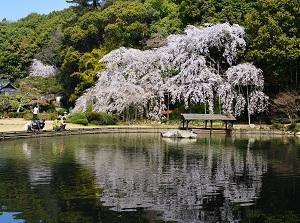 Japanese garden in Sogenji
Photo by Okayama Visitors &
Convention Association
Sogenji is a temple of Rinzai Zen Buddhism, one of the three Japanese Zen sects.
"O" in the word is pronounced long, so it is read as "Sôgenji".
It is located about 7 km east of Okayama station and is at the southern foot of low hill.
This temple was founded by Ikeda Tsunamasa (1638-1714), the 2nd lord of Okayama Clan, as his family temple in 1698.
The precinct is about 200 meters square and is surrounded with forest.
After walking on the straight approach about 300 meters long, there is Somon gate (総門).
And Somon gate, Sanmon gate (三門) and Butsuden (仏殿, Main temple) are set up on a line in the precinct.
The arrangement of the buildings is typical Zen temple.
Behind Butsuden, there is the cemetery of Ikeda family.
This temple has a Japanese garden to the east of Butsuden.
Visitors can enter the garden for 100 yen.
Sogenji is very unique, because most priests except the chief priest are foreigners.
The chief priest has accepted the ascetic monks of Zen Buddhism from all over the world.
So, when you visit this temple, you may meet only foreign priests in the precinct.
On Sunday, visitors can experience Zen meditation from 8:00 to 9:00 a.m.
How to get here
By route bus for Saidaiji, 17 minutes from Okayama station.
Other Tourist Attractions in Okayama Prefecture