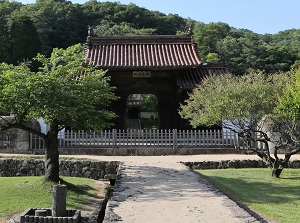 Entrance gate of Shizutani School
Photo : Okayama Prefectural Tourism Federation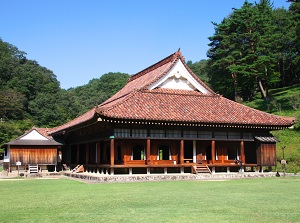 Koudo of Shizutani School
Photo : Okayama Prefectural Tourism Federation
Shizutani School is an old school in the Edo Period (1603-1868).
It is located in a mountainous area in Bizen city about 35 km east-northeast of Okayama city.
The district is called Shizutani.
The school was founded by Ikeda Mitsumasa (1609-1682), the first lord of Okayama Clan, in 1670.
He had already been opened a private school for samurai's children in Okayama city in 1641, but founded Shizutani School as the formal school of the clan.
This school accepted not only samurai's children but also commoner's children in the school.
In this era, there was feudal class system in Japan.
Samurai was the highest rank, and commoners such as farmers, craftsmen and merchants were ranked lower.
But Mitsumasa thought that it was important to cultivate excellent leaders in commoners.
So both samurai's and commoner's children learned in the same room in this school.
The system was very revolutionary.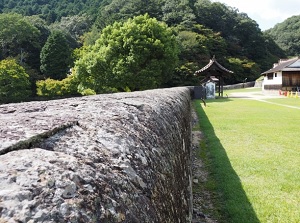 Stone wall in Shizutani School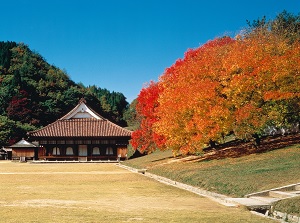 Koudo of Shizutani School in autumn
Photo : Okayama Prefectural Tourism Federation
The children learned in this school were 8 to 20 years old.
They learned various subjects.
Especially, they listened to the lecture of Confucianism in the hall every day, and it was the important curriculum.
The school was opened in 1670, but the whole facilities in the site were completed in 1701.
After the end of feudal Edo government, this school was closed in 1870.
But the people in Okayama reopened this school in 1873.
And this school became a high school in 1903, and a new building was built in the site.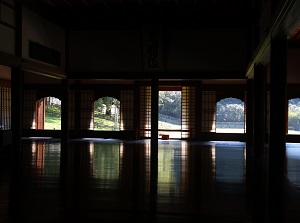 Inside of Koudo of Shizutani School
Photo : Okayama Prefectural Tourism Federation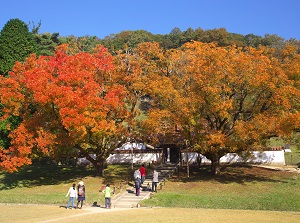 Two Chinese pistache trees in Shizutani School
Photo : Okayama Prefectural Tourism Federation
The school was designated as a national historic site in 1922.
So, the new school buildings were moved to the other place, later.
Most buildings in current site are designated as national important cultural properties.
Particularly, Koudo (講堂, Lecture hall) is designated as a national treasure.
All of roof tiles on Koudo were Bizen Potteries.
Two Chinese pistache trees near Koudo were grown-up from the seeds which a doctor brought back from China in 1915.
The seeds were harvested from the tree near the tomb of Confucius (the founder of Confucianism, 552?-479 B.C.) in Qufu city in China.
The colored leaves in autumn are very beautiful.
How to get here
By local train of JR San-yo Line, about 36 minutes from Okayama to Yoshinaga.
Then, by taxi, about 5 minutes from Yoshinaga station. (about 3.5 km)
Route bus is not frequent.
Hotels around Shizutani School
Other Tourist Attractions in Okayama Prefecture