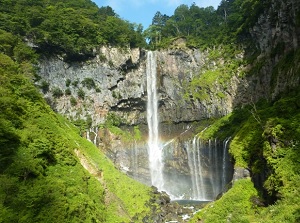 Kegon Falls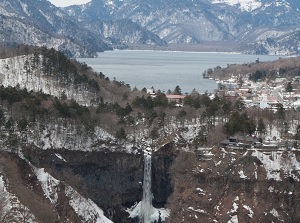 Kegon Falls & Lake Chuzenji in winter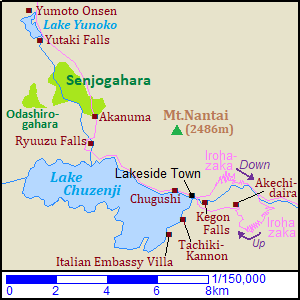 Kegon Falls is one of most popular spots in Nikko.
In Japanese, it is called "Kegon-no-taki".
And, it is popular as one of the most beautiful waterfalls in Japan, along with Nachi Falls in Wakayama Prefecture and Fukuroda Falls in Ibaraki Prefecture.
This is in the Daiya River flowing from Lake Chuzenji, and is located only 0.5 km east from the lake.
The water falls swiftly from 97 meters high.
The width is about 7 meters.
Additionally, more than a dozen small waterfalls of underflow water fall around the lower part of the main fall.
So the scenery is beautiful.
It is said that the first finder of the waterfalls was high priest Shodo who was founded Rinnoji temple in the 8th century.
And the name "Kegon" delives from Kegon-kyo, one of Buddhist sutras.
For visitors, an elevator is set up.
Because this waterfall is close to Lake Chuzenji, the elevator is in the town of lakeside of Lake Chuzenji.
We can visit near the basin of the waterfall with the elevator. (The fee is 550 yen.)
It is too cool in even mid-summer there.
How to get here
By route bus, get off at Chuzenji-onsen stop by route bus.
About 40 to 50 minutes from Nikko station. (It runs on Iroha-zaka.)
Then, walk about 5 minutes.
Hotels around Lake Chuzenji
Other Tourist Attractions in Nikko
Main area of Nikko city
Around Lake Chuzenji
Oku-Nikko