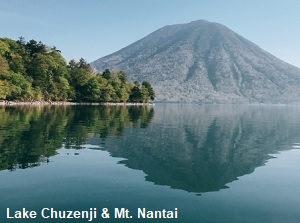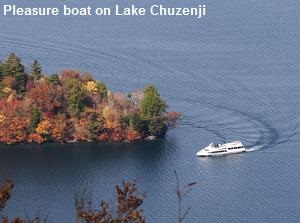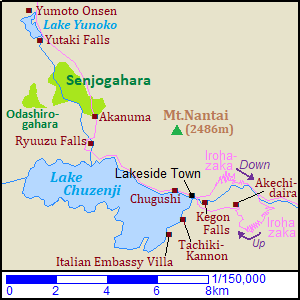 Lake Chuzenji is a lake located about 11 km east of central Nikko.
"U" in the word is pronounced long, so it is read as "Chûzenji-ko" in Japanese.
It is about 7 km from east to west in length, and the width is about 2 to 3 km.
The lake is about at the level of 1,269 meters.
It is the highest lake as more than 4 square km of lakes in Japan.
This area is very cold in winter, but it is rare that the lake freezes because it is relatively deep and winds cause waves.
There is Mount Nantai (2,486 m) to the north-northeast of the lake.
About 20 thousand ago, this lake was formed by damming many rivers after eruption of Mount Nantai.
From the eastern end, Daiya River flows out, and there is Kegon Falls within a short distance.
Then the river flows to the east and near Rinnoji.
To the northwest, Senjogahara marsh spreads.
Yukawa River through Senjogahara flows into this lake.
The main town is at the eastern lakeside near Kegon Falls, and there are some hotels.
Pleasure boat on the lake leaves from there.
It is operated from the middle of April to the end of November.
To the west of the town, there is Chugushi shrine (中宮祠) which is one of the branch shrines of Futarasan Shrine.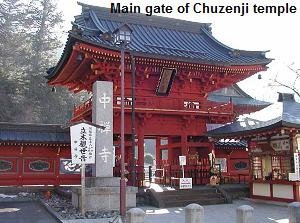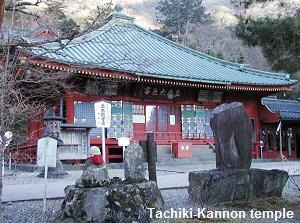 And, to the south of the town, there is Chuzenji temple (中禅寺) which is a branch temple of Rinnoji.
It was founded by high priest Shodo in 784.
The statue of the Goddess of Kannon in main hall is called "Tachiki-Kannon".
From the late 19th to the early 20th centuries, villas of European embassies were built around this lake as a summer resort.
Today, there are the villas of embassies of France, Belgium and Britain.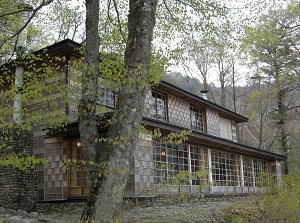 Italian Embassy Villa
Photo by Nikko City Tourism Association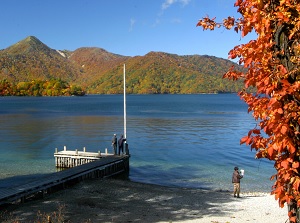 Pier of Italian Embassy Villa in autumn
Photo by Nikko City Tourism Association
Italian Embassy Villa built in 1928 had been used until 1997.
It is located about 2 km southwest of the town.
After that, Tochigi Prefecture bought and restored the building.
Now, it is opened to the public as a memorial park.
How to get here
By route bus, get off at Chuzenji-onsen stop by route bus.
About 40 to 50 minutes from Nikko station. (It runs on Iroha-zaka.)
Hotels around Lake Chuzenji
Other Tourist Attractions in Nikko
Main area of Nikko city
Around Lake Chuzenji
Oku-Nikko