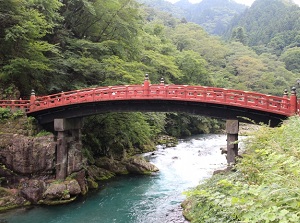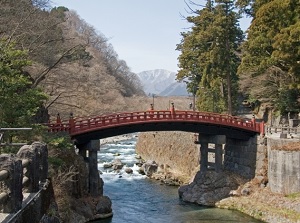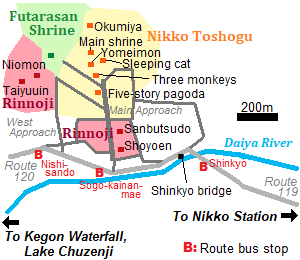 Shinkyo is a bridge across Daiya River.
It is located just at the entrance of the area of Rinnoji temple, Nikko Toshogu and Futarasan shrine.
The length is about 28 meters, and the width is 7.4 meters.
In 767, high priest Shodo, the founder of Rinnoji, and his disciples arrived here for the first time.
Because Daiya River had a rapid current, they were unable to cross the river.
Priest Shodo prayed.
Then, a god appeared.
The god threw two big snakes.
They intertangled with each other, then became a bridge.
Shodo's party was able to cross the river, and went to the sacred Nikko mountains.
The first bridge was built in 808 here.
After that, the bridge had been rebuilt every 16 years.
The bridge were rebuilt with updating the image, when Nikko Toshogu was built in 1636.
At that time, only Shogun, its officials and priests were allowed to cross.
Unfortunately, the bridge was washed away by a flood in 1902, then the current bridge was rebuilt in 1904.
From 1997 to 2005, this bridge were repaired overall.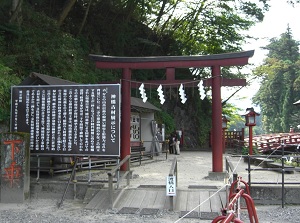 Entrance for crossing Shinkyo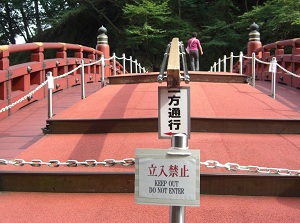 After crossing, you must return.
Now, you can cross this bridge for a fee (300 yen).
This bridge is one of the constructions of Futarasan Shrine.
So, when the bride and groom who have had a wedding ceremony at Futarasan Shrine cross this bridge, the general visitors must wait for the crossing ceremony by the couple.
How to get here
By route bus for Chuzenji or Yumoto-onsen, get off at Shinkyo stop.
About 5 minutes from Nikko station.
Or, about 800 meters walk from Nikko Toshogu.
Hotels around Nikko
Other Tourist Attractions in Nikko
Main area of Nikko city
Around Lake Chuzenji
Oku-Nikko