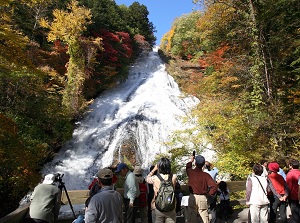 Yutaki
Photo by Nikko City Tourism Association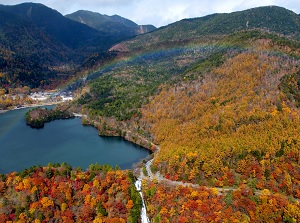 Lake Yunoko in autumn
Photo by Nikko City Tourism Association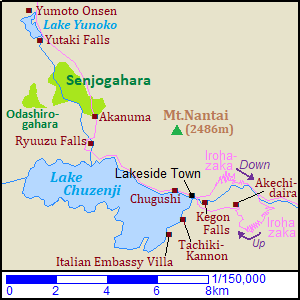 Yunoko is a small lake located just north of Senjogahara marsh.
It is located about 6 km north-northwest of Lake Chuzenji, and at the level of 1,475 meters.
It is about 900 meters from north to south in length, and the width is about 400 meters.
About 20 thousand years ago, when Lake Chuzenji was formed after the erruption of Mount Nantai, this lake was also formed.
There is a waterfall Yutaki (湯滝) at the south end of the lake.
Yukawa River flows out from the waterfall, and it flows through Senjogahara and toward Lake Chuzenji.
Around the lake, there are old-growth forests and marsh, and many wild birds inhabit there.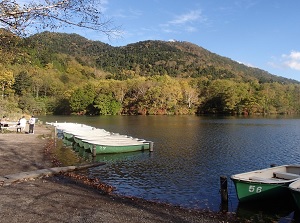 Lake Yunoko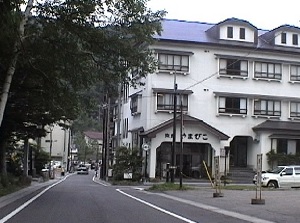 Yumoto-Onsen town
At the northern lakeside, there is Yumoto hot spring resort. (湯元温泉, "Yumoto-Onsen" in Japanese)
Since the 8th century, here has been a resort as therapeutic bath.
It smells sulfurous in the air.
Today, there are more than a dozen hotels and ryokans in this resort.
But unlike common hot spring resorts, here are only the accommodation facilities.
There is no amusement shop, no souvenir shop and no private house.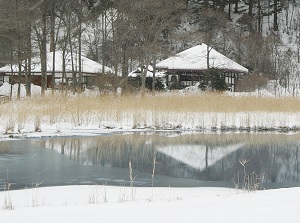 Onsenji in winter
Photo by Nikko City Tourism Association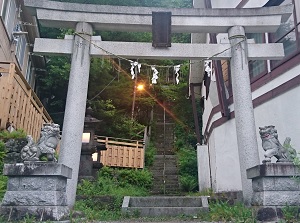 Onsen shrine
In this resort town, there are Onsenji temple (温泉寺) and Onsen shrine (温泉神社).
"Onsen" means "hot spring".
Onsenji is a Buddhist temple founded in 788 by high priest Shodo who was founded Rinnoji temple in Nikko.
So, this temple is one of branch temples of Rinnoji.
There is the source of Yumoto-Onsen near this temple.
This temple have a bathtub filled with the water from the hot spring.
Everyone can take a bath for the worship.
The fee is 500 yen, but it is opened only from mid-April to late November.
It is said that Onsen Shrine was also founded by Shodo in the same time.
A small shrine is on a mountainside.
How to get here
By route bus, about 1 hour and 26 minute from Nikko station.
Other Tourist Attractions in Nikko
Main area of Nikko city
Around Lake Chuzenji
Oku-Nikko