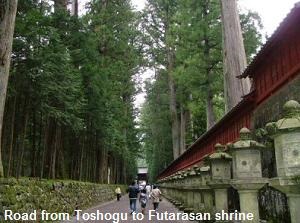 Photo by Railstation.net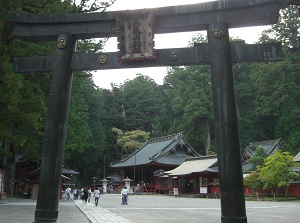 Old Torii gate and Worship Hall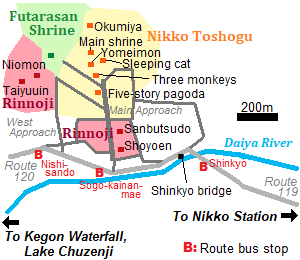 Futarasan Shrine is a Shinto shrine located about 2.5 km northwest of Nikko station of Tobu Railway and JR.
It is right next to Nikko Toshogu shrine.
Futarasan Shrine was designated as World Heritage Site as a part of the "Shrines and Temples of Nikko" in 1999.
This shrine has enshrined the gods of three mountains.
These mountains are Mount Nantai (男体山, 2,486m), Mount Nyohou (女峯山, 2,464m) and Mount Taro (太郎山, 2,368m).
In a mythology, these mountains mean Father, Mother and Child, respectively.
The mountains are located to the west or northwest of this shrine, and people have worshiped them as the place where gods are living since ancient times.
It is said that this shrine was founded in 767.
The precincts contain not only the site with the main shrine but also most mountains to the west of the main shrine.
So the sacred area covers an area of approximately 3,400 hectares.
Before Nikko Toshogu shrine was built in 1636, this had been the central shrine in Nikko area.
Since that, gorgeous Toshogu had been the popular shrine, but Tokugawa Shogun family had provided generous support to this shrine as the original shrine in Nikko.
Most buildings in this shrine were rebuilt around 1619 by Tokugawa Hidetada, the 2nd Shogun and a son of Tokugawa Ieyasu.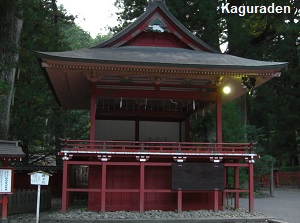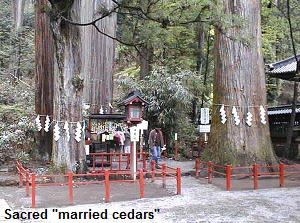 Because this is an old and historical shrine, it has some sacred spots in the precincts.
There are some sacred trees in the site.
Most of them are old and beautiful Japanese cedars.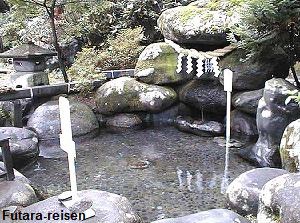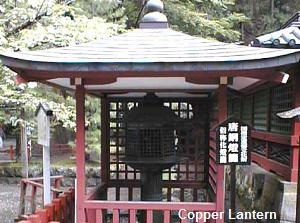 There is Futara-reisen (二荒霊泉) in the most remote part of the shrine.
It is a spring, and the water of a few sacred spots around the shrine flows into there.
In addition, there is a unique spot in the shrine.
Dou-tourou (銅灯籠, Copper Lantern) is near the main shrine, and it was created in the late 13th century.
It is also called "Ghost Lantern" ("Bake-tourou" in Japanese).
After it had been lighted in the evening, it sometimes quaked like a ghost late at night.
Because night guards stroke it with the sword in horror, the lantern has many sword marks.
It is estimated that flying squirrels came to eat the oil in the lantern.
This shrine is the main shrine, and has two branch shrines at the other places.
One is Chûgûshi shrine (中宮祠) founded in 784, and is at the lakeside of Lake Chuzenji.
Another is Okumiya (奥宮) founded in 782, and is at the top of Mount Nantai.
In addition, Shinkyo bridge (神橋) over Daiya River belongs to Futarasan Shrine.
How to get here
By route bus for Chuzenji or Yumoto-onsen, get off at Nishi-sando stop.
About 6 minutes from Nikko station.
Then, about 500 meters walk from Nishi-sando stop.
Or, about 300 meters walk from Nikko Toshogu.
Hotels around Nikko
Other Tourist Attractions in Nikko
Main area of Nikko city
Around Lake Chuzenji
Oku-Nikko