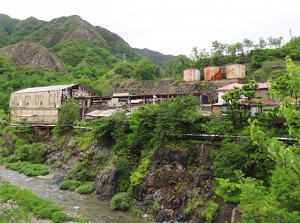 Ruin of the town of Ashio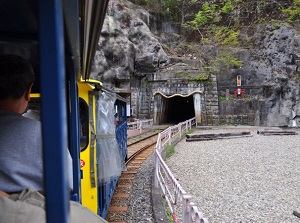 Train to Ashio mine
Photo by Railstation.net
Ashio Copper Mine is located about 20 km southwest of central Nikko city and about 10 km south of Lake Chuzenji.
It is in the upstream valley of Watarase River, and the river flows through Kiryu city in Gunma Prefecture located about 30 km southwest of Ashio.
This mine was found in 1610, and it had produced copper in large quantities until the middle of 19th century.
The copper had been used to build Nikko Toshogu shrine and Edo Castle, or to make coins.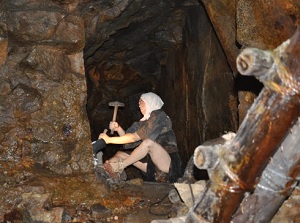 Image of mining in Edo period
Photo by Railstation.net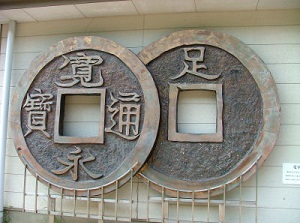 Monument of copper coin in Edo period
Photo by Railstation.net
The mine had declined temporarily, but promising mineral veins were found in 1888, then this mine became active situation again.
In the early 20th century, this mine was the largest in Japan, so the population around Ashio increased to the second largest number after Utsunomiya in Tochigi Prefecture.
But pollution by this mine began to appear at that time.
Mineral poison gas had killed trees, then the mountains around this mine became bald.
Mudslides often occured, and muds flew down the stream.
So, floods caused sometimes.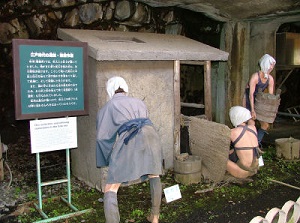 Image of refining in Edo period
Photo by Railstation.net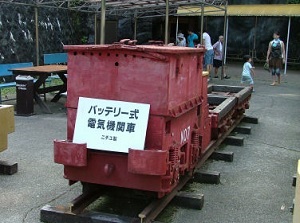 Old vehicles in Ashio mine
Photo by Railstation.net
However, the government and the prefecture had been unable to pinpoint the exact cause.
These questions were left unanswered, but the mine had declined in changes of the times.
At last, this mine was closed in 1973.
This mine is a symbol of outcome and compensation for economic development in Japan.
Today, this mine has been designated as a national historic site.
On the mountains around the mine, forests are covering.
We can tour the driftway by tram, and visit a few museums about this mine.
How to get here
From Nikko
By route bus to Souai-Byoin, about 55 minutes from Nikko station.
From Kiryu city
By Tohoku-Shinkansen, get off at Oyama. (About 42 to 49 minutes from Tokyo).
Change to JR Ryomo Line, and get off Kiryu. (About 55 to 60 minutes)
Change to Watarase-keikoku Railway, and get off Tsuudou station. (About 1 hour and 30 minutes)
Other Tourist Attractions in Tochigi Prefecture