Shiobara hot spring resort [
塩原温泉郷

]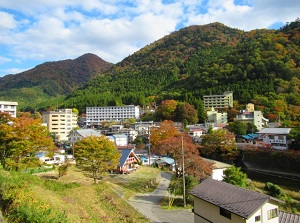 Shiobara Onsen town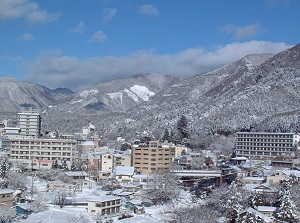 Shiobara Onsen in winter
Photo by Nasushiobara City
Shiobara onsen is a hot spring resort along the gorge formed by Houki River.
It is located at the northwest part of Tochigi prefecture.
The location is at a central position between Nasu highland and Kinugawa Onsen.
The entrance of the onsen town is located about 17 km west of Nasu-Shuiobara station of Tohoku-Shinkansen.
The length of the town is about 4 km along the river.
Eleven hot springs are dotted along the gorge.
There are many hotels and ryokans.
And each of the other hot springs have a few accommodation facilities.
These hot springs were found in the early 9th century.
And this area is close to Nikko and Nasu, so this resort has been popular from a long time ago.
Almost hot springs have some public bathes.
And there are several outdoor bathes.
Some of them are for mixed bathing.
The central hot spring is Furumachi Onsen (古町温泉).
There is the bus terminal of Shiobara Onsen and it is the central town.
Some hotels and ryokans are in this town.
In the south part of the town, there is the Japan's largest foot bath facility Yuppo-no-Sato (湯っ歩の里).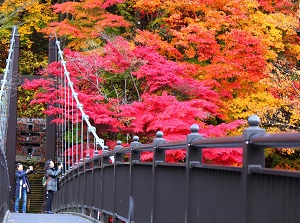 Kurenai-no-Tsuribashi in autumn
Photo by Nasushiobara City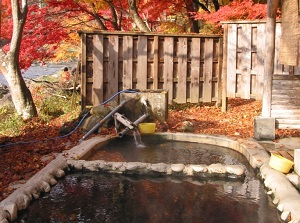 Momiji-no-yu in autumn
Photo by Nasushiobara City
Near the bus terminal, Kurenai-no-Tsuribashi suspension bridge (紅の吊橋) crosses Houki River.
After crossing the bridge and walking a little bit, there is an outdoor public bath Momiji-no-yu (もみじの湯).
You can have a bath at 100 yen, and it is a mixed gender bath.
In early November, you can have a bath in much colored leaves.
How to get here
By Tohoku Shinkansen, about 1 hour and 15 to 20 minutes from Tokyo to Nasu-Shiobara.
By route bus, about 45 minutes from Nasu-Shiobara station.
Hotels around Shiobara onsen
Other Tourist Attractions in Tochigi Prefecture