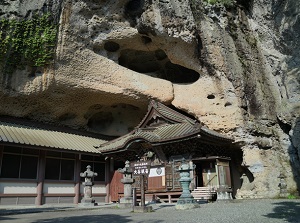 Ooyaji
Photo: Utsunomiya Convention & Visitorsbureau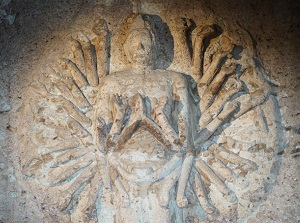 Carved Senju-Kannon
Photo: Utsunomiya Convention & Visitorsbureau
Ooyaji is a Buddhist temple of Tendai sect which was introduced from China in the 8th century.
It is located about 7 km northwest of central Utsunomiya city.
It is sometimes called Ooya-Kannon (大谷観音).
This temple is built in a cave at the foot of a rocky cliff.
It is said that the high priest Kuukai carved a 4-meter-high Senju-Kannon (千手観音, Goddess of Kannon with thousand arms) on the wall of rock in 810.
And a few other statues of Buddha had been carved around the Kannon by the 12th century.
It is said that these statues originally had been covered with brilliant gold leafs.
These are the Japan's oldest statues of Buddha in the cave. (We can't take photos of them.)
The main building of temple is built in front of these statues.
In the precincts, there are a copper bell and a copper garden lantern, which were created in the 17th and 18th centuries.
And there is a Japanese garden.
Out of the temple, a large statue of Kan'non stands.
The statue was built for the memorial of the dead of World War II in 1954
The height is about 27 meters.
It is commonly called Heiwa-Kannon (平和観音, Kannon of Peace).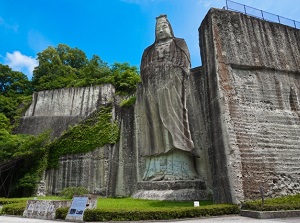 Heiwa-Kannon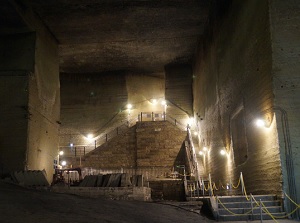 Underground quarry in Ooya Shiryoukan
Photo: Utsunomiya Convention & Visitorsbureau
In the area around this temple, "Ooya stone" is produced.
It is light and soft, so it has been used as a building material.
The stone of rocky cliff in Ooyaji temple is also Ooya stone.
There is Ooya Shiryoukan (大谷資料館, Ooya stone museum) at about 0.5 km northeast of Ooya temple.
The museum introduces Ooya stone and the quarrying.
And, we can see the remain of underground quarry in the museum.
How to get here
Get off at Utsunomiya station of Tohoku-Shinkansen.
About 50 to 55 minutes from Tokyo.
Then, by route bus for Tateiwa, about 30 minutes from Utsunomiya station.
Hotels around Utsunomiya
Other Tourist Attractions in Tochigi Prefecture