Yunishigawa hot spring resort [
湯西川温泉

]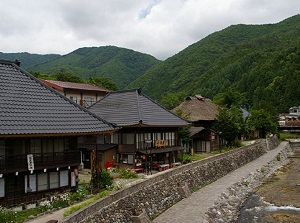 Yunishigawa onsen town
Photo by Nikko City Tourism Association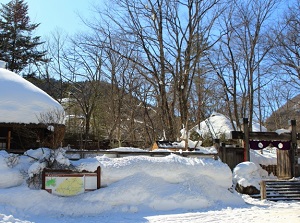 Heike-no-sato in winter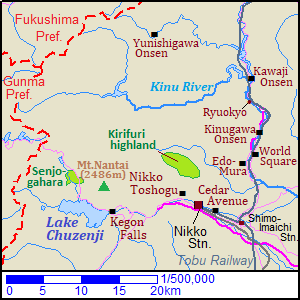 Yunishigawa onsen is a hot spring resort located about 20 km northwest of Kinugawa hot spring resort.
It is located deep in the mountains, and there are some hotels and ryokans along Yunishigawa river.
In the 10th to 12th centuries, Taira clan had gained real power in Japan.
But, Minamoto clan raised a revolt against Taira's oppression in 1180.
It had developed into civil war.
In 1185, the last battle between Taira and Minamoto was done, then Minamoto clan won and Taira clan was overthrown.
In the result, Minamoto clan founded a new government in Kamakura.
After that, remnants of Taira clan had run away throughout the country and hidden in remote part of mountains.
Yunishigawa area was one of the places.
They found a hot spring in this area and it is said that they had been living quietly.
May 5th is the Boys' Festival in Japan, and families with boys fly carp streamers outdoors.
But it is not done in Yunishigawa.
Additionally, no people keeps checkens announcing the hours.
Both customs were the methods that their enemies cannot find them.
And the customs had been inherited from their ancestors.
In the town, there are Heike-no-sato (平家の里, Open air museum of the Taira's village) and a few museums about Taira clan.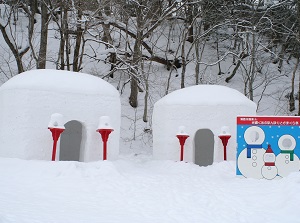 Kamakura in Yunishigawa onsen
Photo by Nikko City Tourism Association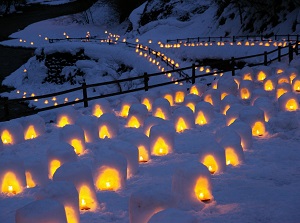 Candles in Kamakura Festival
Photo by Nikko City Tourism Association
This area has much snow in winter.
From late January to early March, Yunishigawa Kamakura Festival is held every year.
Many "Kamakura" (snow house) are made in the town, and a lot of candles in the small Kamakura are lit in the evening.
How to get here
Get off at Yunishigawa-onsen station by the train of Yagan Railway.
About 25 minutes from Kinugawa-onsen station.
Then, about 30 minutes from Yunishigawa-onsen station by route bus.
Other Tourist Attractions in Tochigi Prefecture