The northern Hokkaido is the region of north half of Hokkaido.
This region is called "Dohoku" in Japanese. (First "o" is long vowel, so it is pronounced as "Dôhoku".)
There is a group of the volcanos over 2,000 meters at the center of Hokkaido.
It is the highest place in Hokkaido, and the name of the group of volcanos is Daisetsuzan.
There is a basin on the west side of Daisetsuzan.
The cities such as Asahikawa and Furano are in the basin.
The other area of Dohoku situated in the north of Daisetsuzan is generally hilly.
The west coast faces the Sea of Japan, and the east coast faces the Sea of Okhotsk.
And this region is very cold in winter and has much snow.
In addition, this region has a small population.
In this region, there are Asahikawa and Furano around Daisetsuzan, Wakkanai at the north tip of Hokkaido and only a few small cities.
Between Sapporo and Asahikawa, the trains are operated frequently and an expressway runs.
But there is only JR Soya Line to the north from Asahikawa, and there in no expressway in the area.
Therefore, it takes time to travel around this region.
Tourist Attractions in Northern Hokkaido
Transportation
Railway
To Asahikawa from Sapporo : By JR limited express, 1.5 hours.
To Wakkanai from Asahikawa : By JR limited express, 3 hours 40 minutes.
To Furano from Asahikawa : By JR local train, 1 hour 20 minutes.
Express bus
To Asahikawa from Sapporo : 2 hours.
To Wakkanai from Sapporo : 6 hours.
To Furano from Sapporo : 2 hours.
Airport
There are two airports in this region.
Asahikawa Airport has the flights from Haneda airport (Tokyo) and Chubu airport (Nagoya).
Wakkanai Airport has the flights from Haneda airport (Tokyo) and Shin-Chitose airport (Sapporo).
Main events in Northern Hokkaido
Sounkyo Hyobaku Festival (From late January to the middle of March)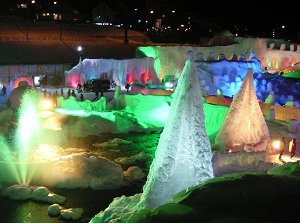 Sounkyo Hyobaku Festival is a winter festival of ice held in Sounkyo Onsen resort town.
Many ice sculptures are set up in the town and they are illuminated by the colorful lights in the evening.
Every day, various events are held, and fireworks are set off in the night.
Local foods and products in Northern Hokkaido
Asahikawa ramen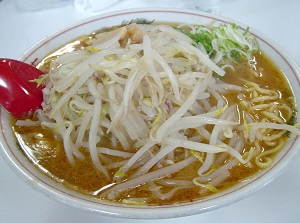 Asahikawa is the city with many ramen shops along with Sapporo in Hokkaido.
The soup of Asahikawa ramen is made from pork bones and fish, but we feel little smell of fish.
Lard is added to the soup, then it slowly gets cold.
Usually the varieties of flavors for ramen are the "shoyu" (soy sauce), "salt" and "miso", and the basic taste of Asahikawa ramen is "shoyu".
Of course, we can taste the ramen of "salt" or "miso" flavor.