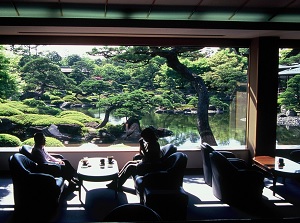 Yuushien garden
Photo by Shimane Prefecture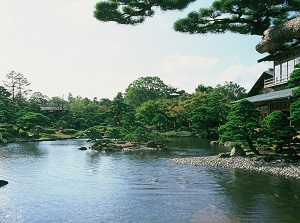 Main pond in Yuushien
Photo by Shimane Prefecture
Yuushien is a wide Japanese garden in Daikon Island.
Daikon Island is a small island in Lake Nakaumi, and is located about 12 km east-northeast of the center of Matsue city.
It is about 2.8 km from east to west and about 1.8 km from north to south.
Two bridges connect between the island and the mainland.
In Daikon Island, ginseng and peony cultivation have been active since the late 18th century.
Ginseng is used as an herb in folk medicine and is produced mainly in China and Korea.
In Japan, it is cultivated only in this island and a few places.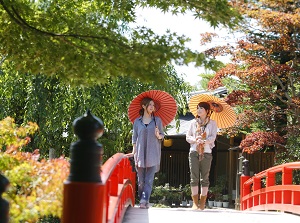 A bridge in Yuushien
Photo by Shimane Prefecture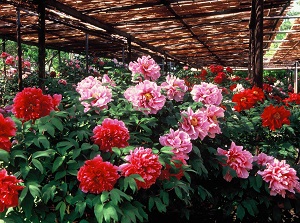 Peony garden in Yuushien
Photo by Shimane Prefecture
Peony has also been cultivated in China and Japan, and Daikon Island is Japan's top producer.
Yuushien was constructed by an influential farmer of ginseng in the island in 1975.
Its total area is 4 hectares, and some kinds of gardens are set up around a large main pond.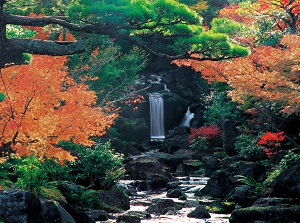 Yuushien in autumn
Photo by Shimane Prefecture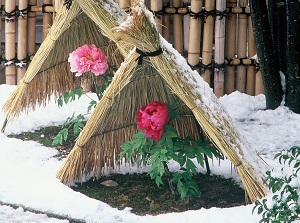 Peonies in winter
Photo by Shimane Prefecture
Many peonies and the other several kinds of flowers bloom in all seasons.
Especially, the event that 30,000 peony flowers are floated on the pond is very attractive, and it is held from the end of April to early May.
How to get here
By route bus for Yatsukacho-Yuushien-iriguchi, about 50 minutes from JR Matsue station.
Other Tourist Attractions in Shimane Prefecture