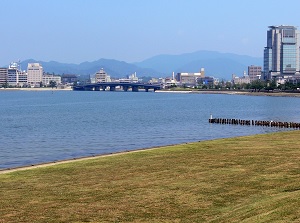 Matsue city facing Lake Shinji
Photo by Shimane Prefecture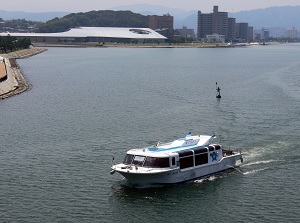 Pleasure boat of Lake Shinji
Photo by Shimane Prefecture
Lake Shinji ("Shinjiko" in Japanese) is a brackish lake, and stretches to the west of central Matsue city.
It is about 17 km from east to west and about 6 km from north to south in width.
Originally, hilly Shimane Peninsula on the north side was a long island and Lake Shinji and Lake Nakaumi were formed by the sand banks on the east and west sides about 10,000 years ago.
There is Lake Nakaumi about 7 km east of Lake Shinji and Ohashi River connects the both lakes.
The center of Matsue city is just around Ohashi River.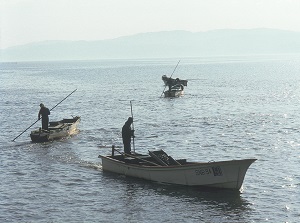 Shijimi fishing in Lake Shinji
Photo by Shimane Prefecture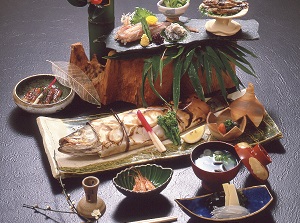 Dish of the fishes in Lake Shinji
Photo by Shimane Prefecture
Various fishes and shells live in Lake Shinji.
Over 240 species of birds are found around this lake, and many of them are waterfowls.
So this lake was inscribed as a registered wetlands under the Ramsar Convention in 2005.
Shijimi clam in Lake Shinji is well-known, and this lake produces about 40 percent of all shijimi clams in Japan.
Shijimi clams in Lake Shinji are landed throughout the year.
There are the restaurants serving the shijimi and the fishes of Lake shinji such as sea bass, carp, eel, prawn, etc. in Matsue city.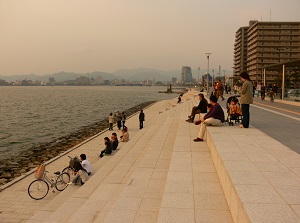 Sunset viewing spot by Lake Shinji
Photo by Shimane Prefecture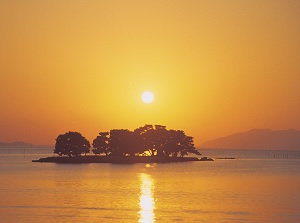 Sunset of Lake Shinji
Photo by Shimane Prefecture
The view of sunset is popular.
Especially, because Matsue city is on the east side of the lake, the lakeside about 1.5 km long from the south of Shinjiko-ohashi bridge crossing over Ohashi River is the good place to see the sunset.
The pleasure boat "Hakuchou" sailing on Lake Shinji is operated.
The boarding points are located about 300 meters north (2nd) and about 900 meters east (1st) of JR Matsue station.
Both points are the riverside of Oohashi River.
The pleasure boat starts from the 1st port, stops at the 2nd port, then goes to Lake Shinji.
It takes 50 to 60 minutes.
How to get here
To the ports of pleasure boat, 5 or 10 minutes walk from JR Matsue station. station.
Hotels around Lake Shinji
Other Tourist Attractions in Shimane Prefecture