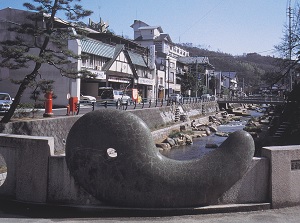 Tamatsukuri Onsen town
and monument of Magatama
Photo by Shimane Prefecture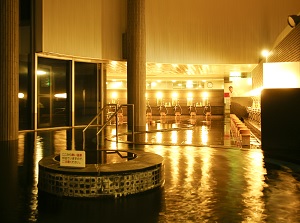 Bathroom in Yuyu
Photo by Shimane Prefecture
Tamatsukuri Onsen is a hot spring resort in a valley near the south coast of Lake Shinji.
It is located about 10 km southwest of the center of Matsue city.
And it is about 2 km south of Lake Shinji.
There are more than a dozen ryokans and hotels along small Tamayu River.
And there is a big public bath facility "Yûyu" in the center of the town.
It is said that this hot spring was found by a god "Sukunabikona" and the Onsen resort was opened in the 8th century.
In Japanese myth, the god "Ôkuninushi" created the land of Japan, and Sukunabikona helped the work at that time.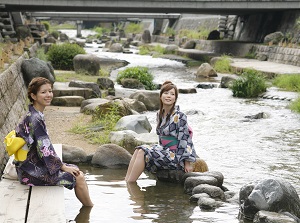 A footbath in Tamatsukuri Onsen town
Photo by Shimane Prefecture

Tamatsukuri Onsen town in the evening
Photo by Shimane Prefecture
In an ancient book introducing this region, there is a mention of Tamatsukuri hot spring as follows.
If you bathe once, you will become good-looking.
If you bathe twice, your illness will cure.
Spring quality is chloride and sulfate spring, and it is also alkalescent.
So it is said that the spring water has the effect of beautifying your skin.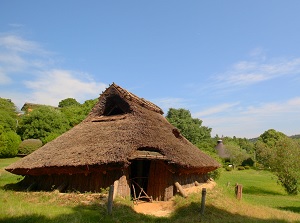 Tamatsukuri historic park
Photo by Shimane Prefecture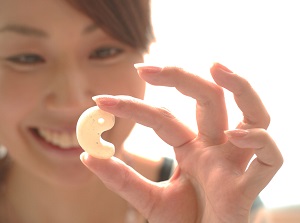 Experience to make magatama
Photo by Shimane Prefecture
"Tamatsukuri" means "making beads".
Since ancient times, the mountain around here has produced agate.
The people had made beads for nacklace of agate from the 4th century B.C. to the 8th century A.D.
A bead has the shape of comma (,).
It is called "magatama" in Japanese.
Near the resort town, there is a historic park.
In the museum, we can see the unearthed article including many magatama.
And the ancient workshops of magatama has been resotored in the park.
How to get here
By JR San-in Line, about 6 to 10 minutes from Matsue to Tamatsukuri-onsen station.
By route bus, about 7 minutes from the station to the resort town.
Or, directly, by route bus, about 28 minutes from JR Matsue station to resort town.
Hotels around Tamatsukuri Onsen
Other Tourist Attractions in Shimane Prefecture