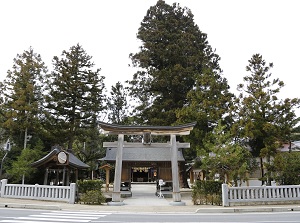 Entrance of Yaegaki Shrine
Photo by Shimane Prefecture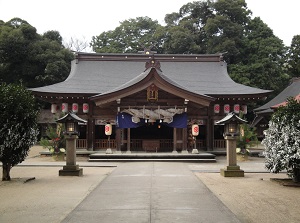 Main shrine of Yaegaki Shrine
Photo by Shimane Prefecture
Yaegaki Shrine ("Yaegaki-jinja" in Japanese) is a Shinto shrine, and is located about 4 km south of JR Matsue station.
It is popular with young women and couples as the god of marriage.
"Yaegaki" means "multifold fences".
And it is said that this shrine was founded by a god named Susano-o in Japanese myth.
When Susano-o was traveling in this area, he met a crying old couple.
They told him.
"We have eight daughters."
"But, Yamata-no-Orochi had come here once a year."
"It is a big 8-headed and 8-tailed dragon and a daughter was eaten by it every year."
"Kushinada-hime is the remaining last daughter, and Yamata-no-Orochi will come soon again."
So, Susano-o engaged for slaying Yamata-no-Orochi on the condition of marriage with Kushinada-hime.
First, Susano-o made multifold fences (Yaegaki) and hid her inside Yaegaki.
Then, he put eight barrels and poured strong Sake into the barrels.
Yamata-no-Orochi appeared.
By the fragrance of the Sake, Yamata-no-Orochi moved each of its eight heads close to a different barrel and drank the Sake.
Whole of Yamata-no-Orochi had gotton drunk and fallen asleep.
Susano-o took this opportunity and chopped Yamata-no-Orochi to pieces by his sword.
By successful slaying Yamata-no-Orochi, Susano-o was able to happily get married to Kushinada-hime.
On the place that Kushinada-hime was hidden with Yaegaki, a shrine was built.
It is Yaegaki Shrine.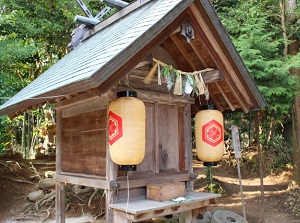 A small shrine in Yaegaki Shrine
Photo by Shimane Prefecture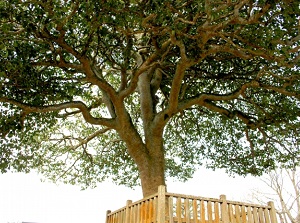 Renri Tamatsubaki near Yaegaki Shrine
Photo by Shimane Prefecture
The precinct is not so wide, and there is the main shrine in the center of the precinct.
And there is a treasure museum, and we can see the picture of Susano-o, Kushinada-hime, etc. drawn in the 9th century.
There is a tree of camellia near the main gate.
It is said that Kushinada-hime planted two branches of camellia and they became one tree later.
It is called Renri Tamatsubaki (連理玉椿), and is the symbol of couple.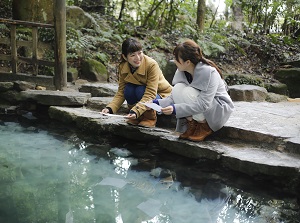 Kagami no Ike in Yaegaki Shrine
Photo by Shimane Prefecture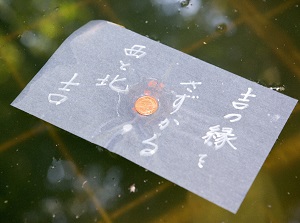 Fortune-telling on Kagami no Ike
Photo by Shimane Prefecture
There is a small pond named Kagami no Ike (鏡の池) in a forest behind the precinct.
It means "Pond of mirror", and it is said that Kushinada-hime looked at herself in the pond when she was hiding.
Fortune-telling for love in this pond is very popular.
First, you buy a Japanese paper at the office of the shrine. (100 yen)
Then, you float the paper on the water of the pond and put a coin on the paper.
The paper sucks up water and an oracle of your love in Japanese appeares on the paper.
In addition, if the paper sinks fast, your partner will be close to you, or if the paper sinks slowly, your partner will be far from you.
How to get here
By route bus, about 20 minutes from JR Matsue station to Yaegaki-jinja.
Hotels around Yaegaki Shrine
Other Tourist Attractions in Shimane Prefecture