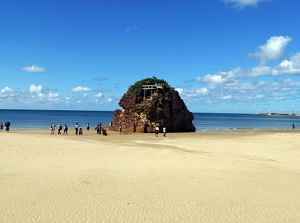 Inasa Beach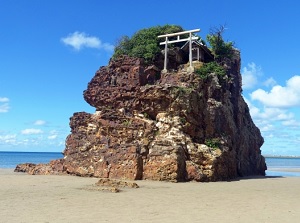 Bentenjima on Inasa Beach
Inasa Beach ("Inasa no hama" in Japanese) is a sand beach facing the Sea of Japan.
It is located about 1.2 km west of Izumo-taisha shrine.
In Japanese myth, a god Ôokuninushi was managing the land of Japan but he was agreed to transfer the land of Izumo to a goddess Amaterasu-Ômikami in heaven.
Instead, Izumo-taisha shrine was given for Ôokuninushi.
At that time, it is said that Ôokuninushi and the messenger of Amaterasu-Ômikami negotiated the transfer of the land on this shore.
And, many gods from all over the country land on this beach on October 10 in according to lunar calendear every year.
It is said that they hold the meeting about the marriage which the worshippers desire in Izumo-taisha shrine.
On the wide beach, there is a solitary big rock.
It is Bentenjima (弁天島) and had been an island in the sea until the 1980s.
It is said that the negotiation was held around the island.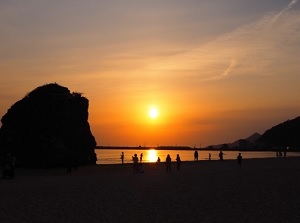 Sunset of Inasa Beach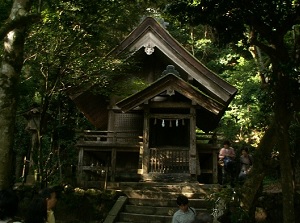 Sogano-yashiro in Izumo-taisha
Photo by Railstation.net
By the way, before you visit Izumo-taisha, fill the sand of the beach into any bag.
Then, bring it "Sogano-yashiro" shrine (素鵞社) in Izumo-taisha shrine.
It is located behind the main shrine (Honden) of Izumo-taisha and at the foot of Mount Yakumo.
First, worship in front of small Sogano-yashiro.
There is no priest in the shrine, but a box of sand is placed under the shrine.
Put your sand into the box, then take a little other sand in the box.
The sand becomes your lucky charm.
(But at immigration control in any airport, it may be checked...)
How to get here
About 20 minutes walk from Izumo-taisha. (about 1.2 km)
Hotels around Izumo-taisha
Other Tourist Attractions in Shimane Prefecture