Ichibata-Yakushi temple [
一畑薬師

]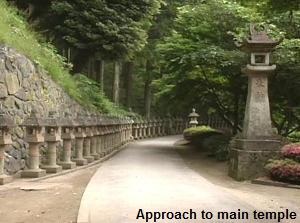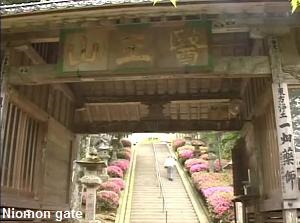 Ichibata-Yakushi is a Buddhist temple on the mountain of Shimane Peninsula.
It is located roughly halfway between Matsue city and Izumo-taisha shrine.
It is about 4 km north of the shore of Lake Shinji, and there is the coast of the Sea of Japan about 2 km north of the temple.
The formal name of the temple is "Ichibataji" (一畑寺).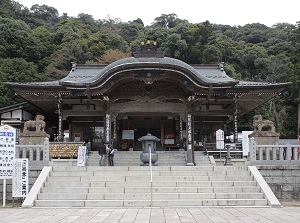 Hondo of Ichibata-Yakushi
Photo by Shimane Prefecture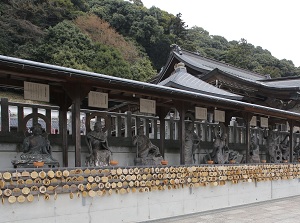 Juroku-Rakando of Ichibata-Yakushi
Photo by Shimane Prefecture
In 894, a fisherman and his blind mother were living near the Sea of Japan.
One day, he went fishing but caught no fish.
At that time, he found a luminous object in the sea.
He pulled it up on the boat from the sea.
It was a golden statue of Yakushi-nyorai Buddha.
Because it was very excellent statue, he put in his house and worshiped it every day.
After that, various miracles occured around him.
One night, he received a prophecy of the Yakushi-nyorai in a dream.
Yakushi-nyorai said, "Jump off the high waterfall, and the eyes of your mother will open."
In accordance with the prophecy, he tried to jump down from a high waterfall.
Of course, village people restrained him, also his mother came there to hear the news.
But he had jumped down, at last.
After that, he knew he was on a large stone without injury, strangely.
His mother came to him.
Surprisingly, the eyesight of his mother was recovered.
Therefore, he built a temple for the Yakushi-nyorai statue.
It was the current Ichibata-Yakushi.
Since that, this temple has been known as the temple curing eyes.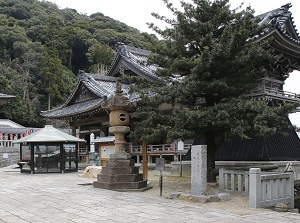 Kannondo of Ichibata-Yakushi
Photo by Shimane Prefecture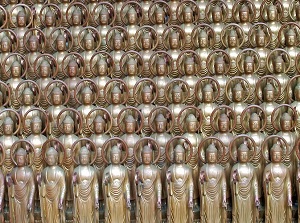 Buddha statues in Hachiman-shisen-butsudo
The temple is on the top of Mount Ichibata about 200 meters high.
To this temple, about 1,300 stone steps are set up from the foot of the mountain.
But the cars and buses come near the temple using a climbing road.
In the temple ground, there are many buildings.
There is Hondo (本堂, Main tample) enshrining Yakushi-nyorai in the highest place.
It was rebuilt in 1890.
There is Jûroku-Rakando (十六羅漢堂) in front of Hondo.
The statues of 16 followers of Buddha are lined along the path.
By Hondo, there is Kannondo (観音堂) enshrining Kanzeon Bosatsu statue.
Hachiman-shisen-butsudo (八万四千仏堂) near Hondo is very attractive.
The name means "temple of 84,000 Buddha statues".
As its name suggests, vast number of Buddha statues are enshrined in the temple.
Buddha said, "Everyone has 108 kinds of 84,000 earthly desires."
How to get here
From Matsue-Shinjiko-onsen to Ichibata-guchi, about 27 minutes.
From Dentetsu-Izumoshi and Izumo-taisha-mae to Ichibataguchi, about 30 minutes.
(Matsue-Shijiko-onsen station is located about 0.8 km southwest of Matsue Castle.
Dentetsu-Izumoshi station is near JR Izumoshi station.)
From Ichibata-guchi station to the temple, by route bus, about 11 minutes.
(The bus operated every 1 or 2 hours, so you have to chack the time.)
Hotels around Ichibata-Yakushi
Other Tourist Attractions in Shimane Prefecture