Adachi Museum of Art [
足立美術館

]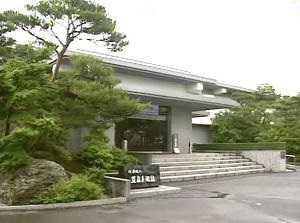 Adachi Museum of Art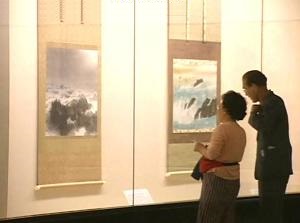 Exhibition room for Yokoyama Taikan
Adachi Museum of Art ("Adachi Bijutsukan" in Japanese) is a museum for Japanese-style paintings with beautiful Japanese garden.
It is in Yasugi city, and is located about 10 km southwest of JR Yasugi station.
And it is located about 20 km southeast of Matsue city.
In 1970, this museum was founded by Adachi Zenko (1899-1990) who was a successful businessman in Yasugi city.
He had collected the quality paintings eagerly for his lifetime.
Especially the collection of around 130 works by Yokoyama Taikan is great, and is the largest in Japan.
Yokoyama Taikan (1868-1958) was a great master of Japanese-style painting and created his unique drawing method.
In main building, there are the exhibition rooms for Japanese-style painting in the 20th century.
One of them is the room for the works of Yokoyama Taikan.
In annex, the newest Japanese-style paintings are exhibited.
In addition, there are the floors for ceramic works.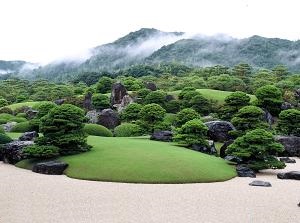 Japanese garden in Adachi Museum of Art
© Adachi Museum of Art / © JNTO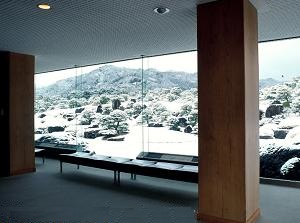 Japanese garden in winter
© Adachi Museum of Art / © JNTO
This museum features the broad and beautiful Japanese garden.
It is more than 16 hectares wide, and consists of six different gardens.
The stones and pine trees in the garden were collected by Zenko himself when he travelled all over Japan.
His concept was that the Japanese garden was also same as a Japanese painting.
The far mountains and forests are also involved in the scenery of this garden.
This garden receives a high evaluation in other countries, and has topped the ranking of Japanese garden in "The Journal of Japanese Gardening" (a magazine in the United States) since 2003.
How to get here
To Yasugi, by JR limited express, about 15 minutes from Matsue, about 7 minutes from Yonago, about 1 hours and 15 minutes from Tottori.
From Yasugi station, free shuttle bus of the museum is operated twice an hour.
It takes about 20 minutes.
Hotels around Adachi Museum of Art
Other Tourist Attractions in Shimane Prefecture