Iwami Ginzan Silver Mine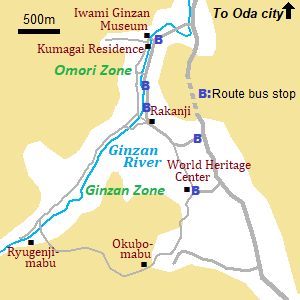 Iwami Ginzan is the former Japan's largest silver mine, and is located about 15 km south-southwest of central Ooda city.
This area is also called "Oomori district".
This silver mine was found in 1309. The silver mine was in the valley formed by Ginzan River.
The mining operation started in 1526.
After the foundation of Edo Government in 1603, the silver of Iwami had been used to make money and to trade with China, Portugal or Dutch East India Company.
At that time, Japan's silver production represented about one third of the worldwide production, and a majority of Japan's production was at the Iwami Silver Mine.
The mined silver had been transferred by ship from Tomogaura or Okidomari Ports facing the Sea of Japan.
In the early 17th century, the land route to Onomichi was completed.
But, the production had been decreasing continuously since the early 18th century.
At last, this mine was closed in 1943.
The ruins of this mine were designated as a historic site in 1967.
And, the remains of the silver mine, its mining district and the embarkation ports are were designated as a World Heritage site in 2007.
The main area of silver mine is along Ginzan River, and is about 3.5 km long.
Basically, general vehicles cannot enter this area. So the visitors must walk or use the route bus and rental bicycle.
Yunotsu area had Okidomari Port, and is located about 10 km west of the main area.
To visit Yunotsu, we must use JR San'in Line from Ooda-shi station.
Iwami Ginzan Silver Mine : Official website by Shimane Prefectural Government
Sightseeing spots in silver mine area (Oomori District)
Iwami Silvermine Museum /1/ : The museum displaying various articles about this silver mine.
It is located at the entrance of this area.
There was a local government office in this site in Edo Period (1603-1868). And the current building is the town office built in 1902.

Oomori Townscape /2/

: The old town of this silver mine.
There are many old samurai residences, merchant residences and temples in the area about 2 km long along Ginzan River.

Shogenji temple /3/

: An old Buddhist temple to the west of Iwami Silvermine Museum.
It is said that it was founded in 1601.
The main gate has some excellent carvings of animals and dragons created in 1772.

Kumagai Family Residence /4/

: A former merchant residence built in the early 19th century.
Kumagai family was one of the richest merchants in this area, and run the businesses of mining, silver cheking, sake brewery.
We can tour around the inside of the residence.

Gohyaku-rakan /5/

: Three stone caves enshrining 501 Rakan statues.
It was constructed for the dead mining workers in 1766 after taking 25 years.
"Gohyaku" means "500" and "Rakan" means "disciple of Buddha".
Near the stone caves, there is Rakanji temple guarding the Rakan.

Ryugenji-mabu mining tunnel /6/

: The silver mining tunnel which we can enter.
It is located in the mountain at the south end of the area.
It was constructed in 1715, and the length is about 600 meters. The length of the part to tour is 273 meters.
The tunnel walls have the traces of mining by chisel.

Kamaya-mabu mining tunnel /7/

: A mining tunnel in the mountains located about 1.5 km east of Ryugenji-mabu.
It was one of the main tunnel, and was found around the early 17th century.
In 2003, huge rock terraces was found near this tunnel. It is unkown why these were constructed.
We can visit here by only special tour.

Ookubo-mabu mining tunnel /8/

: The largest mining tunnel located about 0.3 km east of Kamaya-mabu.
This mining tunnel had produced silver for a long time. The highest part of the tunnel has the height of 5 meters. We can also visit here by only special tour.

Iwami Ginzan World Heritage Center /9/

: The visitor center of the silver mine as the World Heritage Site.
It is a museum of this silver mine, and is positioned at the eastern mountainside of the silver mine.
The special tour to Ookubo-mabu and Kamaya-mabu start from here.
Here is the parking lot of general vehicles and buses to visit this area. The visitors must go to Oomori area by route bus or taxi.
Sightseeing spots in Yunotsu area
Scenic or Nature /
Park or Garden /
Resort /
City, Town or Village /
Quarter or Street /
Temple or Shrine /
Museum or Laboratory /
Market or Commercial facility /
Factory /
Other Building or Construction /
Historic place /
Remains /
World Heritage Site
How to get to here
By railroad and route bus (To Oomori area)
By JR limited express "Oki" or "Matsukaze", to Ooda-shi, about 25 minutes from Izumo-shi, about 55 minutes from Matsue.
By route bus to Kawamoto, from Ooda-shi station, about 26 minutes to Oomori-Daikansho stop (near Iwami Silvermine Museum), about 33 minutes to World Heritage Center stop.
By railroad and route bus (To Yunotsu area)
By train on JR San'in Line, from Ooda-shi to Yunotsu, about 20-30 minutes.
(Only a few limited expresses stop at Yunotsu.)
About 15 minutes on foot, from the station to the hot spring resort.
---
---
---
Copyright ©
travel-around-japan.com
. All Rights Reserved.