Pilgrimage of 88 Temples of Shikoku
Kuukai, Kôbô-daishi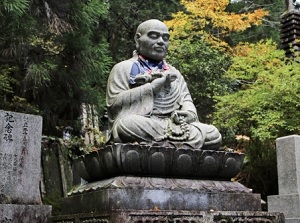 Statue of Kuukai in Koyasan
Kuukai (空海) was one of the greatest Buddhist priests in Japan.
He was born in current Zentsuji city in Kagawa Prefecture in 774.
When he was 15 years old, he came to Nara which was the capital of Japan at that time and he studied there.
But his study was unsatisfying, then he started practicing asceticism in the mountains in Shikoku when he was 19 years old.
After that, he named "Kuukai" as a priest.
When he was 30 years old, he went to China to study Buddhism.
He became an excellent priest, and returned to Japan two years later.
He worked in some temples in Kyoto which became a new capital in 794, and established Shingon sect of Buddhism.
When he was 43 years old, he started the construction of the place to practice Buddhistic austerities in the mountain of Koyasan.
It was a big town for Buddhist, and it took several decades to complete the town.
He worked in a wide range as a high priest in Kyoto, Nara and Shikoku.
But he died in 835 when he was 62 years old.
The priests in Koyasan believe that Kuukai still continues zen practice in the mausoleum of Okunoin in Koyasan.
In 921, Emperor Daigo gave deceased Kuukai the posthumous name of Kôbô-daishi (弘法大師).
"Daishi" means "great priest", so it has become a synonym for Kuukai since that.
About Pilgrimage of 88 Temples of Shikoku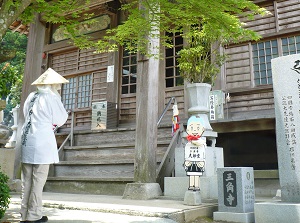 Worshipping pilgrim
Kuukai practiced asceticism in the mountains in Shikoku and the 88 temples are associated with Kuukai.
Originally, the pilgrimage had been for the training priest since around the 14th century.
Current route was determined in the late 17th century.
It is said that the common people began to make a pilgrimage in the late 19th century.
Each temple is numbered to visit in a sequence.
Some temples are large and the others are small.
Of course, the pilgrim can visit the temples freely.
But, it is the standard pilgrimage to visit in numerical order.
In Japanese, the pilgrimage is often called "Henro" (遍路) or affectionately "Ohenro" (お遍路).
And the pilgrim is called "Ohenro-san" (お遍路さん).
The starting temple is Ryozenji in Tokushima Prefecture.
It is located near the northeast part of Shikoku island.
In the old times, the people from Kyoto (the capital of Japan) and Osaka (the big commercial city) walked through Awajishima island and landed on Shikoku island.
Then the first temple for the pilgrimage was Ryozenji.
"Ohenro-san" travel around four prefectures clockwise from Tokushima Prefecture.
Tokushima Prefecture has 23 temples.
Kochi Prefecture has 16 temples.
Ehime Prefecture has 26 temples.
Kagawa Prefecture has 23 temples.

The last 88th temple is Ôkuboji in Kagawa Prefecture.
After visiting Ôkuboji, it is the custom to visit Koyasan to show gratitude for the completion of the pilgrimage.
The 88 temples are the following.
How to pilgrimage
Number of days for pilgrimage
When you make a pilgrimage, you can walk any road, use any transportation, and stay in any accommodation.
You have only to visit 88 temples in numerical order.
I went on a pilgrimage trip for a few days three times, and visited all 88 temples.
After I prepared the plan carefully, I entered Shikoku by airplane and used a rental car.
The total number of days was 8 days.
Many bus tours are also held, so you will see some large buses at the parking lot in many temples.
The tours take 11 to 15 days in total.
If you walk on all route (about 1,400 km), it takes 5 to 8 weeks.
Clothes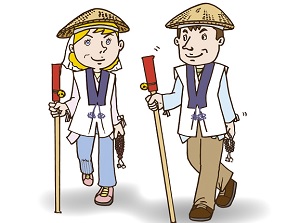 Clothes of pilgrim
Of course, you are a traveler.
So, you can visit wearing your favorite clothes.
But, the pilgrims often wear the additional clothes.
Most pilgrims wear a Hakue (白衣, thin white coat).
It shows that the people wearing Hakue is a pilgrim.
On most Hakue, the sutra or the sacred name of Kuukai is printed.
A strip of colored cloth wearing around the neck is Wagesa (輪袈裟).
It is an informal outdoor cloth of priest.
They put on a Sugegasa (菅笠, sedge hat).
And they have a Kongôzue (金剛杖, plain wooden stick).
Of course, it is used when you walk, but it is regarded as incarnation of Kôbô-daishi.
It is a square stick and five Sanskrit characters are written like a stupa on the top part of the stick.
So it must be handled with care.
In addition, some of them have a Juzu (数珠).
It is like a small necklace with many beads, but it is used hanging on your both hands when you worship in front of the temple.
You can buy the equipment at the 1st temple Ryozenji.
How to worship
In front of entrance gate, make a bow.
Wash hands at a purification fountain.
At the main temple (Hondo), offer a candle and an incense stick.
Chant a sutra.
At Daishido temple, do above 3) and 4)
You receive the signature and red seals of the temple in "Nôkyô-chô".
In Hondo (main temple), the gods of Buddhism are enshrined.
In Daishido, Kuukai (Kôbô-daishi) is enshrined.
In the temple, these two halls are set up.
Sutra for the pilgrimage is basically fixed.
The sutra is written by hundreds of Chinese characters, and we chant it with the pronunciation of Japanese language.
Please read the following page.
About Nôkyô-chô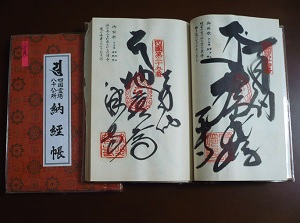 My Nokyo-cho for Pilgrimage of 88 Temples of Shikoku
Nôkyô-chô (納経帳) is a book in which we collect the stamp and the signature at each temple.
It is a proof of visiting the temple, and we can collect them at all temples.
Nôkyô-chô is sold in the office of many temples, and it is about 1,000 to 3,000 yen.
After worshipping a temple, you visit the office (納経所, Nôkyôjo) and offer your Nôkyô-chô to a priest.
And you pay 300 yen as the fee.
Before your eyes, the priest writes the artistic signature of the temple with a brush on a new page of Nôkyô-chô and stamps with red seals.
Then, the priest returns the book to you.
Shukubo
Shukubo (宿坊) is visitors' or pilgrims' lodgings in a temple.
Some temples of 88 temples are far from towns and villages.
So, it is a good idea to use Shukubo as a lodging facility.
In most cases, the guest rooms are in Japanese style, and the price of accommodation usually includes dinner and breakfast (one night and two meals per day).
The chief priest lectures to the visitors in early morning religious service in the temple, so you can join the event.
Basically, reservation by phone is requested by a few day.
If you visit there without a reservation, you may be refused.
The temple numbers with Shukubo are the following.
(Tokushima Pref.) 2, 6, 7, 12, 13, 19, 23
(Kochi Pref.) 24, 26, 37, 38
(Ehime Pref.) 40, 44, 58
(Kagawa Pref.) 75, 81 (only the group of over 10 people)