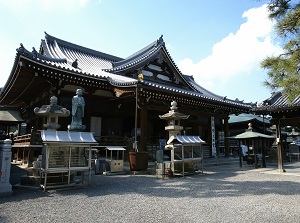 Miedo in Zentsuji
Photo by Kagawa Prefecture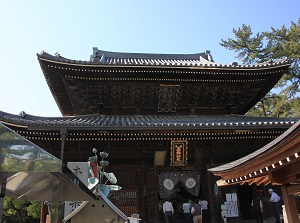 Kondo in Zentsuji
Photo by Kagawa Prefecture
Zentsuji is a temple of Shingon Buddhism, and is in Zentsuji city located about 35 km west-southwest of Takamatsu city.
The temple is located about 1.5 km west of JR Zentsuji station.
"U" in the word is pronounced long, so it is read as "Zentsûji".
Kuukai (774-835) was one of the most excellent Buddhist priests in the ancient times.
He was born around the place of current Zentsuji temple in 774.
He became a priest, and began the ascetic training in the mountains at the age of 19.
And he studied in Tang (current China) from 804 to 806.
After that, he established Shingon Buddhism.
Soon after returning home, he built Zentsuji temple near his birthplace.
The temple was modeled after the temple in which his master priest in China was lived.
The construction of Zentsuji started from 807, and finished in 813.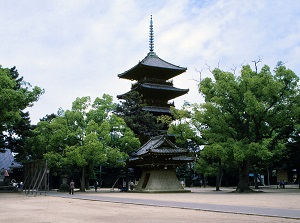 Five-story pagoda in Zentsuji
Photo by Kagawa Prefecture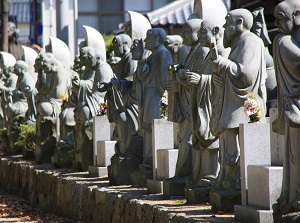 Gohyaku-rakan statues in Zentsuji
Photo by Kagawa Prefecture
The temple has Touin (東院, Eastern site) and Saiin (西院, Western site).
Touin is the temple which Kuukai himself constructed originally.
The original buildings had been destroyed by fire in civil war in 1558.
Most of the buildings were rebuilt after that.
In this site, there are Kondo (金堂), Shakado (釈迦堂), Five-story pagoda (五重塔), and some other buildings.
Saiin is located about 80 meters west of Touin, and both sites are connected with an approach.
In this site, there was the house where Kuukai was born.
Miedo (御影堂) was built on the place.
Miedo is in the center of the site, and there was the room of Kuukai's mother in the temple.
It is right the holy place.
Under sacred Miedo, an underground passage without light is set up.
Of course, it is entirely dark, and the length is about 100 meters.
It runs under the room of Kuukai's mother.
We can pass through the passage for a fee, and it is called Kaidan meguri (戒壇めぐり).
Needless to say, it is not an amusement attraction.
The images of Buddha are painted on both side of the walls, and the floor is covered with the sands from many Buddhist temples in Shikoku Island.
It is important to walk in the dark reflecting on yourself and purifying your spirit of evil thought.
It is said that the man who has done evil is never able to go out of the dark tunnel.
How to get here
By JR Dosan Line, from Takamatsu to Zentsuji, about 30 minute by limited express, about 45 minutes by rapid train.
Or, from Okayama to Zentsuji, about 55 minutes by limited express.
About 3 minutes by taxi, about 20 minutes on foot, from the station.
Other Tourist Attractions in Kagawa Prefecture