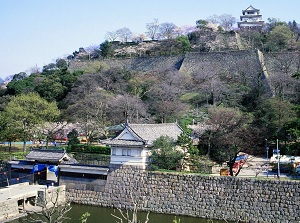 Marugame Castle
Photo by Kagawa Prefecture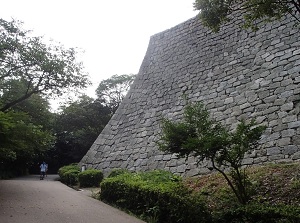 High stone wall of Marugame Castle
Marugame Castle is the castle in Marugame city located about 30 km west of Takamatsu city.
It is near the center of the city, and is located about 1 km southeast of JR Marugame station.
Only 12 castles in Japan have their original castle towers, and Marugame Castle is one of them.
Marugame Castle was built as a branch castle of Takamatsu Castle in 1602.
It is on Mount Kameyama 66 meters high, and the place was a good place to built castle as a fort.
Major renovation took place in 1673, then this castle featured the high stone walls.
As above, the castle tower is on the top of Mount Kameyama, and high stone walls have been constructed with four layers on the whole mountainside.
So the total height of the wall stone is 60 meters, and that is the highest stone wall for castle in Japan.
And a square-shaped moat surrounds at the foot of the castle.
The length of the side is about 500 to 600 meters.
Until the end of feudal Edo Government (1603-1868), many samurai residences were inside the moat.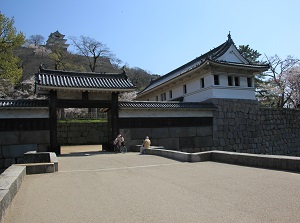 Entrance gate of Marugame Castle
Photo by Kagawa Prefecture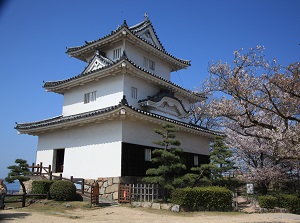 Castle tower of Marugame Castle
Photo by Kagawa Prefecture
The buildings of this castle have been designated as national important cultural properties.
The site is opened to the public.
We can climb the castle tower, and can enjoy the view of the city, Seto Inland Sea, and Mount Iino which is similar to Mount Fuji.
Additionally, there is the workshop of Uchiwa for visitors in the site.
Uchiwa is Japanese paper fan, and it is the specialty product of Marugame city.
How to get here
From Takamatsu to Marugame, about 20 minute by JR limited express, about 25 minutes by rapid train.
Then, about 10 minutes walk from the station.
Hotels around Marugame Castle
Other Tourist Attractions in Kagawa Prefecture