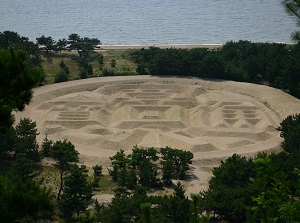 Zenigata Sunae
Photo by Kagawa Prefecture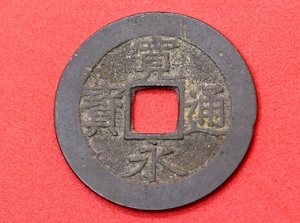 Real coin of Kan'ei Tsuho
Zenigata Sunae is a huge sand painting in Kan-onji city located at the west egde of Kagawa Prefecture.
Kan-onji city is located about 50 km southwest of Takamatsu city, and Zenigata Sunae is about 2 km northwest of JR Kan-onji station.
Zenigata Sunae is on a sand beach.
It is a sand painting in the shape of Japanese old coin.
The shape is an oval, and the size is 122 meters from east to west and 90 meters from north to south.
The length of circumference is 345 meters.
The image on Zenigata Sunae is a coin called Kan'ei Tsûhô (寛永通宝).
The coin had been minted from 1636 to the 1860s.
In 1633, the lord of Marugame Castle had to make a tour of inspection through his territory.
So, the farmers in this area constructed this sand painting to express their welcome in one night.
However, as above, the first Kan'ei Tsûhô was minted in 1636, so the story is not true.
Instead, there are a few similar stories.
In any case, Zenigata Sunae was constructed 170 to 400 years ago.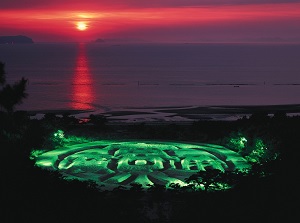 Zenigata Sunae in the evening
Photo by Kagawa Prefecture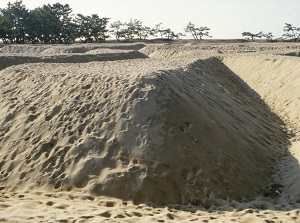 Zenigata Sunae (Visitors can't enter here.)
Photo by Kagawa Prefecture
It is surrounded by a lot of trees, and the visitors are not allowed to enter the area of Zenigata Sunae.
So the visitors can view it from an observatory on a hill in Kotohiki Park (琴弾公園).
It is lit up in the night.
It is said that Zenigata Sunae was made into an oval shape to view from the hill.
Of course, because it is an art of sand, many citizens join the repairing work in spring and autumn and after the passing of the typhoon.
By the way, it is said that the people who sees Zenigata Sunae will be healthy, long-lived and no short of money.
How to get here
From Takamatsu to Kan-onji, about 50 minute by JR limited express.
It takes 5 minutes from Kan-onji station to Kotohiki Park by route bus, but it is operated only 4 times a day.
The distance is about 1.5 km, so it takes about 20 minutes on foot.
Hotels around Zenigata Sunae
Other Tourist Attractions in Kagawa Prefecture