Shikoku-mura outdoor museum [
四国村

]

Former Yamashita House in Shikoku-mura
Photo by Kagawa Prefecture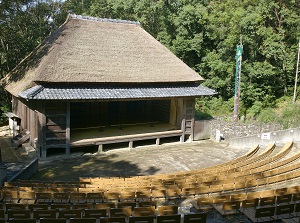 Kabuki theater in Shikoku-mura
Photo by Kagawa Prefecture
Shikoku-mura is an outdoor museum with many old folk houses in Shikoku Island.
It is located about 6 km east of the center of Takamatsu city.
And it is located at the southern foot of Mount Yashima.
This museum was opened in 1976.
The site is about 200 meters from east to west and about 350 meters from north to south.
12 folk houses were built between the 18th to the early 20th century, and were relocated from the various area in Shikoku island.
And there are a few workshops such as making shoyu (soy sauce) or sugar.

Workshop to make sugar in Shikoku-mura
Photo by Kagawa Prefecture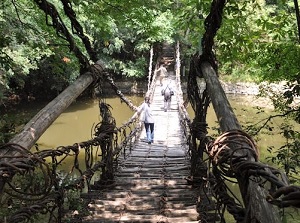 Old vine bridge in Shikoku-mura
Photo by Railstation.net
Old government office, storehouses, Kabuki theater, tea houses, bridges, lighthouses, etc. are also dotted in the site, so it looks like an old village of Shikoku.
How to get here
By JR Kotoku Line, from Takamatsu to Yashima, 9 minutes by limited express, 15 minutes by local train.
To Shikoku-mura, about 900 meters walk.
Or, by Kotoden railway, 15 minutes from Kawaramachi to Kotoden-Yashima.
To Shikoku-mura, about 400 meters walk.
From both stations, shuttle bus to Mount Yashima is operated and stops at Shikoku-mura.
10 minutes from JR Yashima station, 2 minutes from Kotoden-Yashima station.
Hotels around Shikoku-mura
Other Tourist Attractions in Kagawa Prefecture