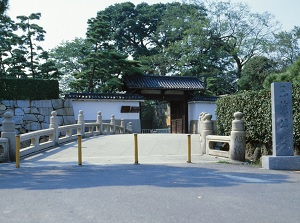 Entrance gate of Tamamo Park
Photo by Kagawa Prefecture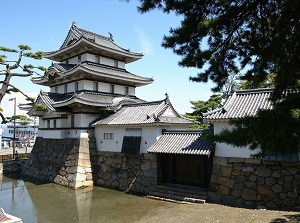 Bentenjima on Inasa Beach
Takamatsu Castle is a castle located near Takamatsu Port.
There are JR Takamatsu station and Takamatsu-Chikko station of Kotoden Line near this park.
Another name is Tamamo Castle (玉藻城).
The site has been called as Tamamo Park (玉藻公園).
The castle was built in 1587, and was renovated in the middle of the 17th century.
The castle tower was demolished in 1884, and the mausoleum of Matsudaira Yorishige (1622-1695, the 1st lord of the castle) was built in the site in 1920.
The site of the current park is a square shape with the sides about 300 meters long.
It is said that the original size of the site was over eight times as large as current site.
Originally, the north side of the castle faced the sea directly.
The moats of this castle are still filled with seawater, so oysters and sea breams live in there.
Now, there are a road and a quay of Takamatsu Port between the north side and the sea.
The visitors can feed the sea breams.
And a small boat tour on the moat is operated.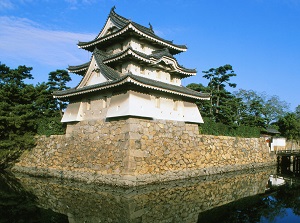 Corner tower of Takamatsu Castle by the moat
Photo by Kagawa Prefecture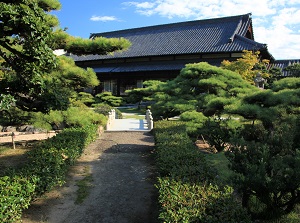 Hiunkaku in Takamatsu Castle
Stone walls remain along the moats, and two original corner towers are by the moat.
Main building in the site is Hiunkaku (披雲閣).
The original buildings was a palace for the lord and was demoloshed in 1872.
After that, current Hiunkaku was built as the villa of Matsudaira family in 1917.
It was designated as an important national cultural property in 2012.
Now, the restoration of the castle tower is under review.
How to get here
About 100 meters walk from JR Takamatsu station.
Hotels around Takamatsu Castle
Other Tourist Attractions in Kagawa Prefecture