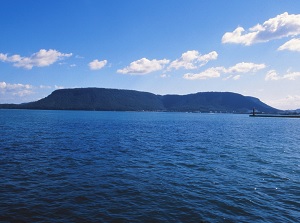 Yashima from the sea
Photo by Kagawa Prefecture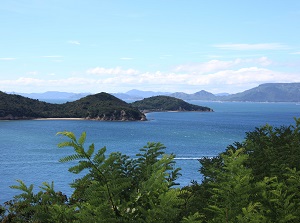 View from Yashima
Photo by Kagawa Prefecture
Yashima is a mountain located about 5 to 7 km east of the center of Takamatsu city.
It looks like a tableland, and the part of the top is flat.
The highest point is at the level of 292 meters.
Originally, the mountain was an island.
The area is about 5 km from north to south and about 2.5 km from east to west.
In 663, the allied forces of Japan and a southwestern country in Korea were completely defeated by the allied forces of China and a main country of Korea in Korean Peninsula.
Therefore, Japanese government built many defensive facilities in western Japan.
In 1998, a ruin of an ancient fort was excavated around the top of Yashima.
So, it was confirmed that Yashima was one of the facilities.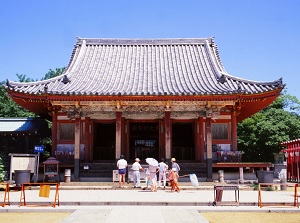 Main temple of Yashimaji
Photo by Kagawa Prefecture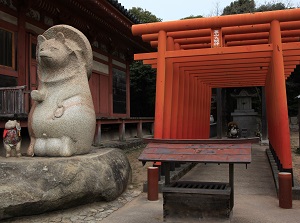 Statues of raccoon dog in Yashimaji
Photo by Kagawa Prefecture
There is Yashimaji temple (屋島寺) on the top of the mountain.
It was founded by Chinese priest Ganjin in 754.
Ganjin (688-763) was introduced from Tang (current China) to teach Buddhism in Nara where was the capital of Japan at that time.
On the way to Nara, he visited this area and established this temple.
In 815, high priest Kuukai enshrined some Buddha statues in this temple.
So Yashimaji is one of the temples of "Pilgrimage of 88 Temples of Shikoku".
There is a legend that a woonded raccoon dog was rescued by a samurai and became a guardian god of Yashimaji in the 12th century.
So there are many statues of raccoon dog in the precinct.
Yashima was a historic battlefield.
In 1185, Taira Clan and Minamoto Clan battled on the sea around Yashima.
Taira family had governed Japan exerting power, but the defeat of the battle led to the fall of the Taira family.
Some spots associated with the battle are dotted on Yashima.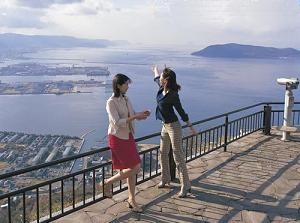 Kawarake throwing on Yashima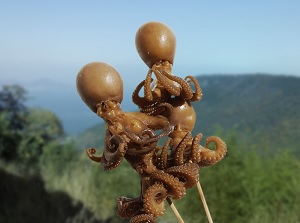 Iidako Oden in Yashima
Photo by Kagawa Prefecture
Of course, there is the observatory on the top.
And the popular specialty play is "Kawarake throwing".
Kawarake is a small unglazed plate.
You can get 8 dishes for 200 yen.
Throw them farther at the observatory, and your wish will come true.
In addition, boiled small octopus ("iidako oden" in Japanese) is also a local specialty of Yashima.
You can eat it in the shops around the observatory.
The northern part of Yashima is a natural park.
A walking trail about 2.5 km long is set up.
How to get here
By JR Kotoku Line, from Takamatsu to Yashima, 9 minutes by limited express, 15 minutes by local train.
Or, by Kotoden railway, 15 minutes from Kawaramachi to Kotoden-Yashima.
From both stations, shuttle bus to the top of Yashima is operated.
18 minutes from JR Yashima station, 10 minutes from Kotoden-Yashima station.
Other Tourist Attractions in Kagawa Prefecture