Ishikawa Prefecture [
石川県

]
Ishikawa Prefecture is located in the center of Hokuriku District.
The southern part is called Kaga area (加賀).
It is the old name of this area.
There is Kanazawa city (金沢) of the prefectural capital in the center of the area.
The northern part is Noto Peninsula (能登半島) expanding to the Sea of Japan.
Because of the peninsula, the prefecture is long from north to south.
The length of the coastline between the northern tip to the prefectural boundary is about 200 km.
In Kaga area, there is a narrow plain along the coast and main cities including Kanazawa are dotted.
The other part of Kaga area is mountainous and Mount Hakusan (白山, 2,702 m) is the highest mountain.
Since the end of 16th century, Kaga area had been governed by the lords of Maeda Family.
And they had efforted to develope various industries and technics.
So, Kanazawa city had developed, and it had been the fourth largest city in Japan after Edo (Tokyo), Osaka, Kyoto until the 19th century.
(The current population of Kanazawa is about 465 thousand and is ranked around 40th in Japan.)
Noto Penisula is hilly in the whole area.
But even the highest mountain is not more than 600 meters.
There is no large town in this area.
And the northern part of the peninsula has no railroad.
The northern coast has many cliffs formed by the wild waves of the Sea of Japan.
In winter, cold and strong wind from the continent blows.
But because a warm current flows off the coast, the coastal area have relatively light snowfall.
Various industries are conducted in Ishikawa Prefecture.
Especially, traditional industries such as lacquer ware, Yuzen, etc. are well-known.
Tourist Attractions in Ishikawa Prefecture
Kaga area
Noto area
Transportation
Railway
To Kanazawa from Tokyo : By Hokuriku Shinkansen, about 2.5 to 3 hours.
To Kanazawa from Osaka : By limited express of JR Kosei & Hokuriku Lines, about 2 hours and 45 minutes.
To Kanazawa from Nagoya : By limited express of JR Tokaido & Hokuriku Lines, about 3 hours.
Express bus
To Kanazawa from Nagoya : About 4 hours
To Kanazawa from Osaka : About 5 hours
To Kanazawa from Tokyo : About 9 hours
Airport
Komatsu Airport is located in Komatsu city about 30 km southwest of Kanazawa city.
It has the flights from Shin-Chitose (Sapporo), Sendai, Haneda, Narita (near Tokyo), Fukuoka and Okinawa.
Noto Airport is located about 15 km south of Wajima city.
It has domestic flights from Haneda airport (two round-trip a day).
Main events in Ishikawa Prefecture
Seihaku Festival (May 3 - 5)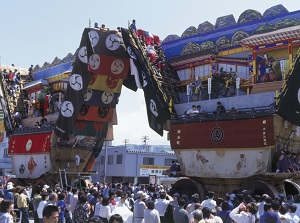 Photo by Ishikawa Prefectural Tourism League
It is a festival held in Nanao city, and is the annual festival of Ootokonushi Shrine.
It is said that this festival has been held since 981.
In Japan, many festival have the parades of decorated floats.
But, the floats of this festival are particularly big.
The height is about 12 meters, the diameter of the wheels is about 2 meters.
The weight is about 20 tons.
And the model of a famous scene of Kabuki is set up on the float.
We can see the beautiful floats in the city.
Kiriko Festival (From July to October)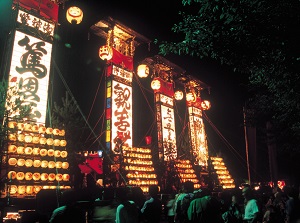 Photo by Ishikawa Prefectural Tourism League
Kiriko festival is held in the various towns in Noto Peninsula.
It is a summer festival in the area.
Kiriko is similar to Mikoshi (portable shrine).
But it is set up not a portable shrine but a tall lantern on the frame.
On the lantern, beautiful pictures or characters are painted.
The people carry the kirikos, and they parade throughout the town.
Gojinjo Daiko drum performance (July 31)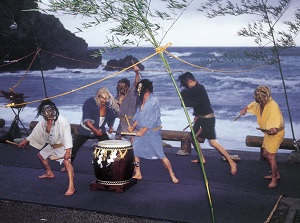 Photo by Ishikawa Prefectural Tourism League
It is a drum performance which originated in Nafune district in Wajima city.
In 1576, the troop of Uesugi Kenshin, one of the strong warlords, invaded into Wajima area.
But in a night, the people in Nafune wore the grotesque mask and the wig of seaweeds, and they made a sudden attack against the sleeping troop with beating drums wildly.
The rush of the monsters surprised the soldiers, then they had run away.
Since that, the drum performance by masked people has been the important event in the annual festival of Okitsu-hime Shrine in the area.
We can sometimes see the performance at the bus terminal of Wajima city.
Wajima Morning Market (Every day except a few days a month)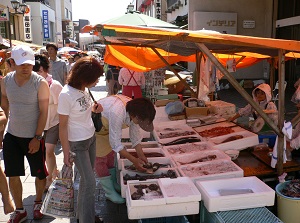 Photo by Ishikawa Prefectural Tourism League
It is a morning market opened in Wajima city, and is one of the most famous morning markets in Japan.
Along a street about 360 meters long near Wajima harbor, there are over 200 stalls.
They sell fresh seafoods, vegetables, dried fish and many other goods.
This market has been opened for over a thousand years.
It opens from 8:00 to 12:00.
Basically, it is closed only on the 2nd and 4th Wednesday of each month and January 1, 2, 3.
Local foods and products in Ishikawa Prefecture
Kabura-zushi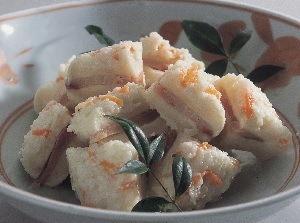 Photo by Ishikawa Prefectural Tourism League
"Kabura-zushi" means "sushi of turnip".
But it isn't a common "sushi".
First, sliced salted yellowtail are sandwiched between sliced salted turnips.
Then, they are pickled in rice malt after adding chopped carrots and konbu (kelps) and are fermented in it for several days.
We eat it without cooking.
This food tastes rich and sour.
Because of the sour taste by fermented rice, it is called "sushi".
Kabura-zushi is made mainly in Kaga area in winter, and is often served as one of the dishes of the New Year's food in Ishikawa Prefecture.
Jibuni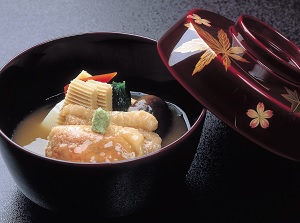 Photo by Ishikawa Prefectural Tourism League
It is a local stewed food in Kanazawa city.
It is made by stewing flour-coated sliced duck meat, some pieces of gluten ("Fu" in Japanese) and some vegetables in Japanese soup.
The soup is thickened a little by the flour on the meat.
And wasabi is added as a spice when we eat.
Now it is one of the home cooked dishes in this area, but originally it was a cuisine of samurai.
It is said that Toshiie Maeda, the lord of this area in the 16th century, ordered his cook to create this dish first.
Wajima lacquerware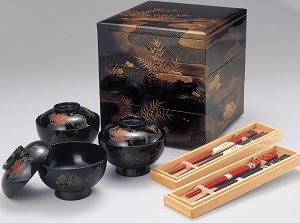 Photo by Ishikawa Prefectural Tourism League
It is one of the famous lacquerwares in Japan.
In Japanese, it is called "Wajima-nuri".
In Wajima city, the lacquerware has been created since the early 18th century.
The process for production has more than 20 operations, and all of them are hand workings.
As the base coat, diatom earth is used.
So it is said that Wajima lacquerware is strong.
Kutani ware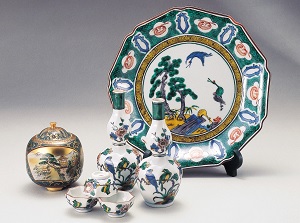 Photo by Ishikawa Prefectural Tourism League
It is a style of Japanese porcelain producing at the south part of Ishikawa Prefecture including Kanazawa city.
The picture on the porcelain is very gorgeous and colorful.
It is like famous Arita ware in Saga Prefecture.
Arita ware uses red as the main color, but Kutani ware uses blue or green color.
First it was produced from 1655 to around 1700.
It is called "old Kutani".
And the production restarted in 1807.
Now it is producing as a high-class porcelain.
Kaga Yuzen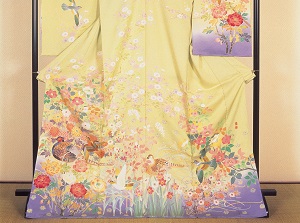 Photo by Ishikawa Prefectural Tourism League
It is a colorful-dyed silk fabric for Kimono, and has been created in Kaga area, the southern part of Ishikawa Prefecture.
Famous Kyo-Yuzen in Kyoto was developed in the late 17th century by Miyazaki Yuzensai.
He was invited to Kanazawa in 1712, then he applied his technique to the traditional Kaga dyeing in consideration of its climate.
The picture of Kyo-Yuzen is mostly pattern, but picture of Kaga-Yuzen is like Japanese painting.
Therefore, it is more gorgeous and colorful than Kyo-Yuzen.