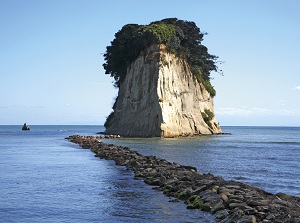 Mitsuke Island
Photo by Ishikawa Prefectural Tourism League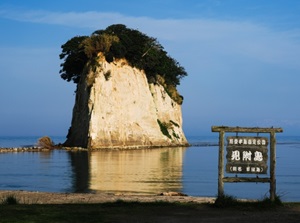 Mitsuke Island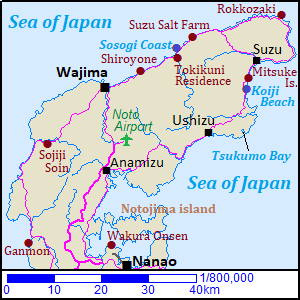 Mitsuke Island ("Mitsukejima" in Japanese) is a rock island near the coast.
It is located about 5 km south of the center of Suzu city.
Only the island stands about 150 meters off the sandy beach.
It looks like a warship, so the scenery is a symbol of Noto Peninsula.
The height is 28 meters, and the length is about 180 meters.
A path built by piling rocks leads to the island.
(But, when the tide comes in or the waves rise, it is dangerous to walk on the path.)
On the beach near the island, there are a park, walking trails, a camping site and a rest house.
Because the beach faces the east, the scene of the sunrise is beautiful.
And, the island is lit up in the night.
Koiji Beach (
恋路海岸

)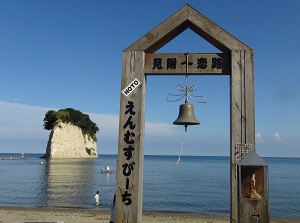 Bell for lovers on Enmusu-Beach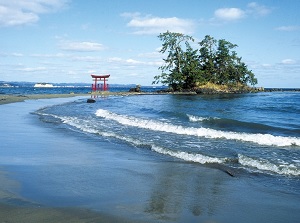 Koiji Beach
Photo by Ishikawa Prefectural Tourism League
There is a sand beach about 3.5 km long from Mitsuke Island to the south.
And the south part of the beach about 1 km long is called Koiji Beach.
"Koiji" means "love road".
Once there was a couple around here.
But the young man was killed in the sea by his rival in love who wanted to get the girl.
Then the girl had also thrown herself into the sea after him.
By this sad story, people called this beach "Koiji Beach".
This romantic name attracts many young couples.
There are a heart-shaped monument and a bell for lovers.
It is said that your love will success if the bell is rung by you and your lover.
In addition, the nickname of the beach between Mitsuke Island and Koiji Beach is Enmusu-Beach.
"Enmusubi" in Japanese means "matchmaking".
How to get here
The bus terminals of Ushizu town and Suzu city (Suzunarikan-mae) are the bases to visit these spots.
By the route bus, get off at Mitskejima-guchi stop or Suzu-Ukai stop to Mitsuke Island.
Many buses takes about 1 hours from Ushizu, but a few bus running on short route takes about 35 minutes from Ushizu.
And, it takes 25 minutes from Suzunarikan-mae stop.
To Koiji Beach, get off at Koiji-hama stop by the same bus.
About 6 minutes from Mitskejima-guchi.
Hotels around Wajima
Other Tourist Attractions in Ishikawa Prefecture
Kaga area
Noto area