Cape Rokkozaki (Rokkosaki) [
禄剛崎

]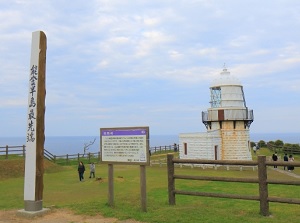 Rokkozaki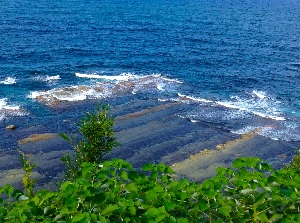 Sprinkling sea water in Suzu Salt Farm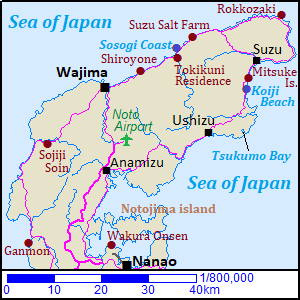 Rokkozaki is the tip of large Noto Peninsula.
The second "o" in the word is pronounced long, so it is read as "Rokkôzaki".
And, it is also called as "Rokkôsaki".
The cape is about 40 km east-northeast of Wajima city.
It is neither the northernmost nor the easternmost.
Rather, it is the tip of the peninsula according to the geographic features.
In the old days, many accidents at sea had occured around the sea, so signal fires had often been lit on this cape.
"Signal fire" is "noroshi" in Japanese.
So the name of the district around the cape is "Noroshi" (狼煙).
Now, there is a white lighthouse built in 1883.
Along the coast, rock grounds named Senjojiki (千畳敷) spread.
On this cape, we can see both the sunrise from the holizon and the sunset to the horizon.
Cape Suzu (
珠洲岬

)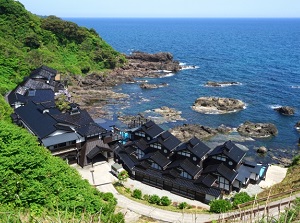 Cape Suzu & a ryokan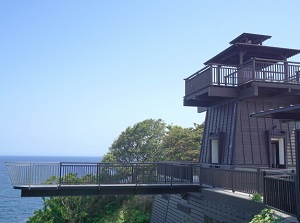 Thrilling observatory on Cape Suzu
Cape Suzu ("Suzu Misaki" in Japanese) is a cape located about 2 km southeast of Rokkozaki.
This cape is recently introduced as one of the sacred places with high power.
It is said that two jet streams from the subtropical regions and the arctic regions meet over the cape and a warm sea current and a cold sea current meet around the cape.
Therefore, they say that the nature of the cape gives us the power.
The formal name of the cape is "Kongôzaki" or "Kongôsaki" (金剛崎), but more popular name is Seiiki-no-misaki (聖域の岬) meaning "cape of sanctuary".
There are some walking trails and observarories around the cape.
And a ryokan is by the sea at the foot of the cape.
Especially, floating observatory deck is unique and thrilling.
How to get here
By express bus, to Suzunarikan-mae (bus terminal in central Suzu city), about 1 hour and 10 minutes from Anamizu station, about 3 hours from Kanazawa station.
Then, by route bus, about 50 minutes from Suzunarikan-mae to Noroshi stop.
About 400 meters walk to the lighthouse.
The route bus running between Noroshi and Sosogi-guchi stop (near Tokikuni Residences) is operated only once a day in the morning.
To Cape Suzu, by the route bus, get off at Yoshigaura stop.
About 5 minutes from Noroshi stop.
About 1 km walk to the cape.
Hotels around Wajima
Other Tourist Attractions in Ishikawa Prefecture
Kaga area
Noto area