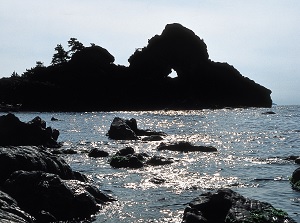 Mado-iwa
Photo by Ishikawa Prefectural Tourism League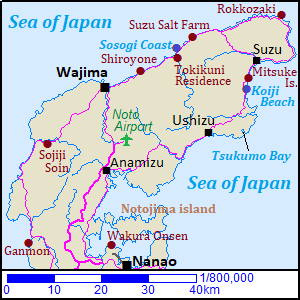 Sosogi coast is a coast located about 18 km of east-northeast of the center of Wajima city.
There are many uniquely shaped rocks which the wild waves of the Sea of Japan has eroded.
Mado-iwa (窓岩, Window Rock) is a rock with a hole.
It is known as the most popular spot in this coast, and is near Sosogi village.
(There are Tokukuni residences about 1.5 km south of the coast.)
There is "Mado-iwa Pocket Park" near the beach of Mado-iwa, and it is the best place to see the rock.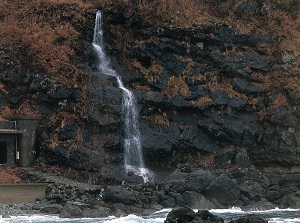 Tarumi Falls
Photo by Ishikawa Prefectural Tourism League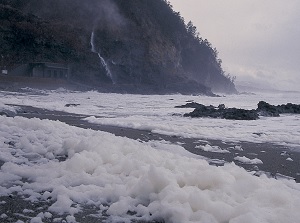 Sea foam around Tarumi Falls
Photo by Ishikawa Prefectural Tourism League
Tarumi Falls (垂水の滝) is located on the coast about 1.5 km northeast of Mado-iwa.
The height of the falls is about 30 meters and the water falls into the sea directly.
And, in winter, the falling water doesn't reach the sea beacuse of blowing up by strong wind.
It is just at the exit of a tunnel of the road, and we can see it easily.
In addition, "sea foam" appeared around the coast sometimes in winter.
"Sea foam" is the foam created by stirring sea water with rough waves, strong wind and rugged rocks on the coast.
Much sea foam appear and cover the beach along coast on very windy days from December to February.
The white foam is blown by strong wind and the scene is like snow.
How to get here
By route bus for Ushizu-eki, about 33 minutes from Wajima bus terminal to Sosogi-guchi stop.
(The bus is operated every 2 to 3 hours.)
About 1 km from the bus stop to Mado-iwa.
Other Tourist Attractions in Ishikawa Prefecture
Kaga area
Noto area