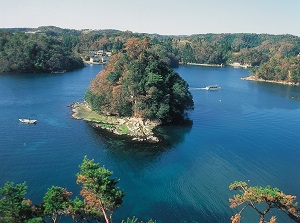 Tsukumo Bay
Photo by Ishikawa Prefectural Tourism League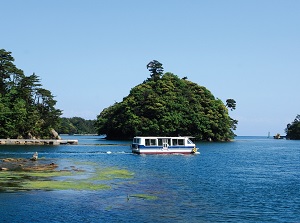 Pleasure boat in Tsukumo Bay
Photo by Ishikawa Prefectural Tourism League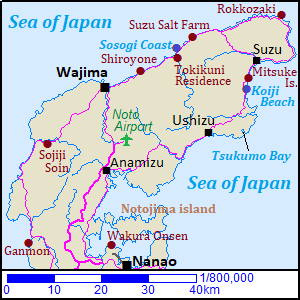 Tsukumo Bay ("Tsukumo-wan" in Japanese) is a small bay located about 10 km south of Mitsuke Island and about 15 km south of the center of Suzu city.
The bay is about 1 km from east to west and about 1.5 km from north to south in width.
The coastline is indented, so the length of the coast is 13 km.
"Tsukumo" means "99", and the name is from the number of a lot of small inlets of the coast.
But the coast is not so steep, and forests cover the gentle slope.
In addition, there is small Hourai Island (蓬莱島) covered with forest in the center of the bay.
So, some say that the scenery of the bay looks like a "miniature garden".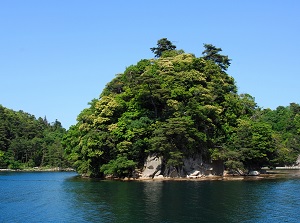 Hourai Island in Tsukumo Bay
Photo by Ishikawa Prefectural Tourism League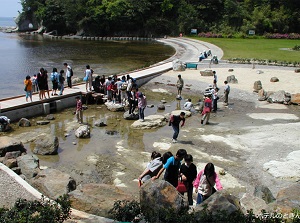 Promenade around Tsukumo Bay
Photo by Hotel Notokinpura
There is Noto Marine Center at the southeasten edge of the bay.
It is a research facility of the sea and introduces the marine life around Noto area.
From the facility, a promenade is set up along the coast.
Two companies operate the pleasure boats.
One starts from near Noto Marine Center and another starts from near the north edge of the bay.
They are operated from April to November or December.
The cruising time is about 40 minutes.
How to get here
The bus terminals of Ushizu town and Suzu city (Suzunarikan-mae) are the bases to visit these spots.
By the route bus, get off at Tsukumo-wan stop.
It takes 27 minutes from Ushizu, 55 minutes from Suzunarikan-mae stop.
Hotels around Wajima
Other Tourist Attractions in Ishikawa Prefecture
Kaga area
Noto area