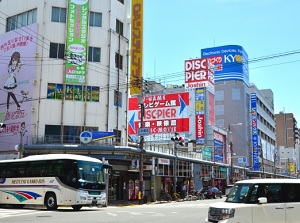 Denden Town in Nipponbashi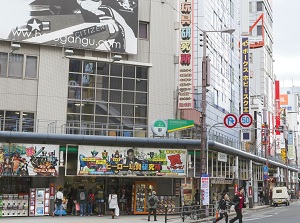 Denden Town
© Osaka Convention & Tourism Bureau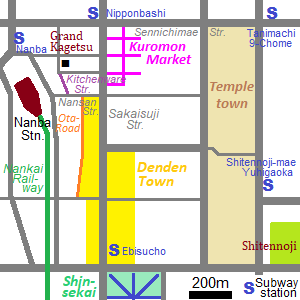 Nipponbashi is the area located to the southeast of Dotonbori and to the east of Nanba area.
The area is along Sakaisuji street from north to south, and the length is about 1 km.
By the way, the kanji characters of "Nipponbashi" is the same as "Nihonbashi" in Tokyo.
"Nipponbashi" is the name of a bridge.
It is the bridge of Sakaisuji street across Dotonbori canal. The original bridge was built in 1619.
But the bridge has gotten less attention, and we recognize that Nipponbashi is the name of town.
After the end of World War II, this town became a town of electronic stores like Akihabara in Tokyo.
Many electronic stores are around Nipponbashi 3-chome district and along Nansan street connecting the intersection and Nankai Nanba station.
Generally, this town is called Denden Town (でんでんタウン).
"Den" is a word element meaning "electricity" in Japanese.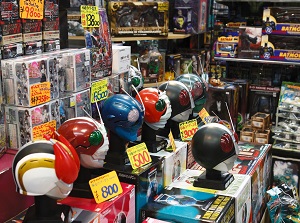 A shop in Denden Town
© Osaka Convention & Tourism Bureau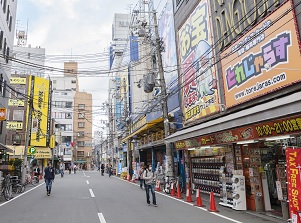 Ota-Road
© Osaka Convention & Tourism Bureau
Along the street on the west side of Denden Town, there are many shops of game, manga, anime like Akihabara.
We can also find "maid cafes".
This street attracts "Otaku" (geek of anime, manga or game), so it has been called Ota-Road (オタロード).
How to get here
Nearest stations of subway.
Nipponbashi (●K17 Sakaisuji Line, ●S17 Sennichimae Line)
Other Tourist Attractions in Osaka Prefecture
Around Kita area
Around Minami area
Waterfront area in Osaka city
Other area in Osaka Prefecture