Shinsaibashi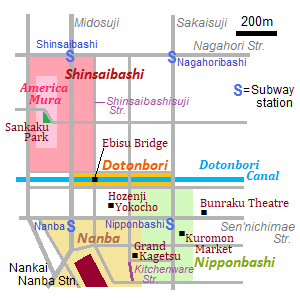 Shinsaibashi is one of the main shopping area in Osaka, and is to the north of Nanba.
It is positioned roughly in the center of JR Osaka-Kanjosen (Osaka Loop Line).
It is the area along Midosuji Boulevard, and the length is about 700 meters.
The north end is the intersection at Nagahori Street and the southern end is Dotonbori canal.
Along Midosuji Boulevard, there are some department stores, hotels and many other buildings.

To the east of Midosuji, Shinsaibashisuji shopping street runs parallel to the boulevard.
It is an arcade street, and is the main area of Shinsaibashi. Many shops, restaurants and cafes are along this street.
The south end is near Ebisu Bridge across Dotonbori canal.
In the early 20th century, they said "Ginza of the east, Shinsaibashi of the west".
On the west side of Midosuji, there is the area with the shops of many cloths, sundry goods, CDs and so on.
The shops are for young people, and they has treated the imported goods from west coast of America and Hawaii.
So this area is called "Amerika-mura" (American Village), and it is also called "Harajuku of the west". It is a trendsetting town in Osaka.
As above, Shinsaibashi area has department stores, high-class brand shops, boutiques, trendy shops and general shops.
Buratto Shinsaibashi : Shinsaibashisuji Shopping Center Promotion Association official website
How to get to here
By subway
Shinsaibashi (Midosuji, Nagahori-Tsurumiryokuchi Lines).
---
---
---
Copyright ©
travel-around-japan.com
. All Rights Reserved.