Nankai Nanba station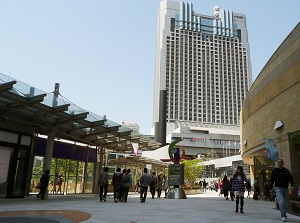 Namba Parks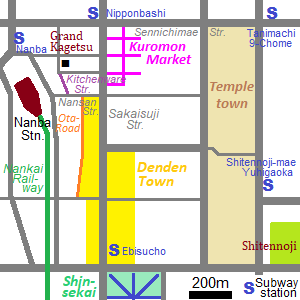 Nanba is the central area of "Minami", and is one of the main downtowns in Osaka, along with Umeda of "Kita".
In English, "Nanba" is sometimes spelled as "Namba".
Shinsaibashi is to the north, Dotonbori is to the northeast, and Nipponbashi is to the east.
This district is the south end of Midosuji street and Sennichimae Street runs from east to west.
Nankai Railway has the terminal station in the center of Nanba district, and it leads to Kansai International Airport, Wakayama and Koyasan.
Kintetsu Railway has the terminal station under the ground, and it leads to Nara, Ise and Nagoya.
Hanshin Railway connects to Kintetsu Line, and it leads to Kobe.
And JR Nanba terminal station is located to the west of central Nanba area.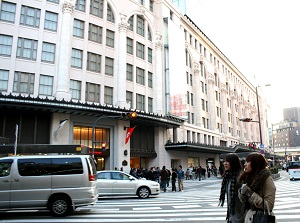 Department store in Nanba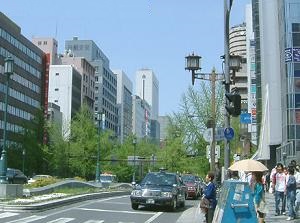 Midosuji street near Nanba
Underground mall Nanba Walk is set up under Sennichimae Street, and connects all in Nanba area.
There are some department stores and a few mass sales stores in this area.
As a tall building of office and shopping complex, there is Namba Parks near Nankai Nanba station.
There are many pubs and restarurants in the area to the northeast of Nankai Nanba station, and the area is recently called as Ura-Nanba meaning back side of Nanba.
How to get here
There are the terminal stations of Nankai Railway, Kintetsu Railway and Hanshin Railway.
Nearest stations of subway.
Nanba (●M20 Midosuji Line, ●Y15 Yotsubashi Line, ●S16 Sennichimae Line)
Other Tourist Attractions in Osaka Prefecture
Around Kita area
Around Minami area
Waterfront area in Osaka city
Other area in Osaka Prefecture