Tourist Attractions in Aomori
Aomori city is the prefectural capital of Aomori Prefecture.
The population is about 270,000.
Aomori Bay expands on the north side of the city.
Since early 17th century, the central city had been Hirosaki in this area.
But in 1871, early in the Meiji era, the capital of this prefecture was moved to Aomori city which has a port.
And the terminal station of the national railway from Tokyo was placed because of the entrance to Hokkaido.
After that, the railway ferry to Hakodate in Hokkaido was opened.
Aomori city has developed as a key junction of transportation.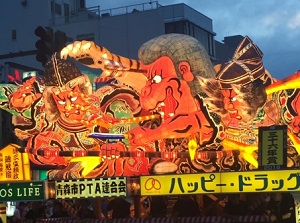 Aomori Nebuta Festival
In 1988, Seikan undersea tunnel (53.8km long) connecting between Honshu island and Hokkaido island was completed.
Then, all trains have been able to run directly from Aomori to Hakodate.
At this time, the railway ferry ended the service.
(A few ferries are operated as in the past.)
In winter, Aomori city have snow about 1 meter deep.
And it is one of the central cities of heavy snowfall in the world.
In early summer, the cool eastern wind from north Pacific Ocean often blows, so it is sometimes cold, fog rises, and some flights are cancelled.
Aomori Nebuta Festival is one of three major annual festivals in Tohoku Region, and it is held around central Aomori city from August 2nd to 7th.
How to get here
By Tohoku-Shinkansen, from Tokyo to Shin-Aomori terminal, it takes about 3.5 hours.
By Hokkaido-Shinkansen, from Hakodate to Shin-Aomori terminal, it takes about 1 hours. (The station of Hakodate is "Shin-Hakodate-Hokuto".)
From Shin-Aomori station to Aomori station, about 6 minutes by JR train.
Airplane arrives at Aomori Airport.
From the airport, about 35 minutes by route bus.
Hotels in Aomori
Other Tourist Attractions in Aomori Prefecture