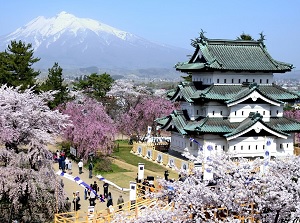 Mt.Iwaki from Hirosaki Castle
Photo by Hirosaki City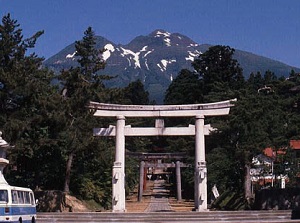 Iwakisan Shrine & Mt.Iwaki
Photo by Aomori Prefecture
Mount Iwaki ("Iwakisan" in Japanese) is a mountain located about 15 km east-northeast of Hirosaki city.
It is a volcano, and there are three peaks on the top.
The highest peak is also named as Mount Iwaki, and the height is 1,625 meters.
The last eruption of the volcano was in 1863, and the volcanic activity is relatively inactive now.
It has a conic shape like Mount Fuji, so it is called "Tsugaru Fuji".
Most people living in Tsugaru area can see this mountain, because there is no high mountain around Mount Iwaki.
So the mountain has been worshipped as a god by the people since a long time ago.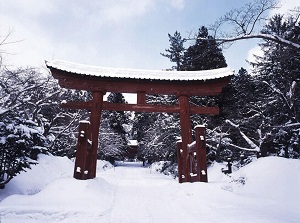 Iwakisan Shrine in winter
Photo by Aomori Prefecture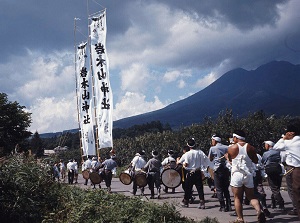 Oyama-sankei of Iwakisan Shrine
Photo by Aomori Prefecture
In the late 8th century, Iwakisan Shrine (岩木山神社) was established at the southeast foot of the mountain.
And there is a branch pavilion of the shrine on the top of the mountain.
Both shrines are connected a mountain trail.
In every August 1st on the lunar calendar (almost, the beginning of September), "Oyama-sankei" festival of the shrine is held for three days.
Many people climb Mount Iwaki and visit the shrine on the top to pray for a good harvest.
Of course, you can climb the mountain trail anytime.
The distance to the top is about 5 km, but the trail is steep because the difference in elevation is about 1,400 meters.
It takes 4 to 5 hours to the top.
But, it's very hard to climb the mountain wearing a light outfit.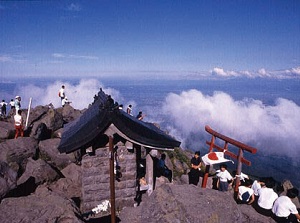 Iwakisan Shrine in winter
Photo by Aomori Prefecture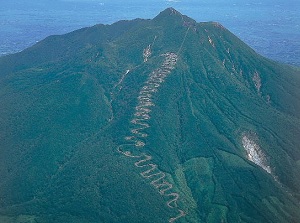 Zigzag road of Tsugaru Iwaki Skyline
Photo by Aomori Prefecture
On the other hand, from the southwestern foot, a tollway "Tsugaru Iwaki Skyline" leads to the 8th station of the mountain.
It is located 1,240 meters above sea level.
The way is the zigzag road about 10 km long, and has 69 curves on the route.
From the end point, a lift leads to the 9th station (about 1,470 meters above sea level).
But you must climb from there to the top on foot.
How to get here
By route bus for "Karekitai", from Hirosaki station, about 40 minutes to Iwakisan Shrine (Iwakisan Jinja).
By the same bus, get off at "Dake-onsen". About 50 minutes from Hirosaki station.
Then, get on the shuttle bus to "Iwaki-san 8-goume" (8th station).
It takes about 30 minutes. (It runs on the zigzag road.)
After that, to the 9th station, a lift takes 10 minutes.
From the end point of the lift to the top of Mount Iwaki, it takes about 30 to 40 minutes on foot.
The distance is only about 600 meters, but you must climb a height of about 150 meters.
Hotels in Hirosaki
Other Tourist Attractions in Aomori Prefecture