Tourist Attractions in Hirosaki
Hirosaki city is a central city in western Aomori Prefecture, and is located about 35 km southwest of Aomori city.
It has a population of 170 thousand.
In the early 17th century, a castle was build here for reigning over the territory of current western Aomori Prefecture.
So Hirosaki had been developed as the central castle town after that.
The lord was Tsugaru clan, so this area is called "Tsugaru".
For a long time, Hirosaki was the political, economic and cultural center in Tsugaru area.
But in 1871, the prefectural government was moved to Aomori city.
Despite this, Hirosaki is still one of the most important city in Aomori Prefecture.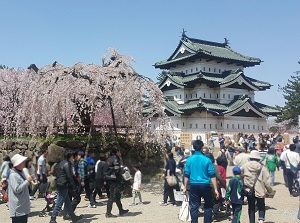 Hirosaki Castle in spring
Photo by Hirosaki City
Hirosaki has a long history, so there are a castle and many other historic buildings in the city.
Additionally, because the city invited many missionaries for English teaching from the West in the late 19th century, many western-style buildings and churches were built in the city.
Fortunately, Hirosaki had no air raid during the World War II.
Therefore, the original buildings remain.
And these have been maintaind since that time.
So, Hirosaki is one of popular historic towns.
In addition, Hirosaki is known for major cherry blossom-viewing spot in spring.
And it is famous as a top production center of apple in Japan.
Of course, Hirosaki Neputa Festival (every August 1st to 7th) is also famous, along with Aomori Nebuta Festival.
The sightseeing spots in Hirosaki are mostly around Hirosaki Castle.
So you can see some spots only on foot.
Of course, you can use a taxi or a rental bicycle.
But the route bus is economical.
The route buses connecting some sightseeing spots are operated.
And, the fare is only 100 yen at one time.
How to get here
By airplane, from each airport to Aomori airport.
(For example, it takes 1 hour and 15 minutes from Haneda (Tokyo) and 1 hour and 30 minutes from Itami (Osaka).)
By route bus, from the airport to Hirosaki Station, it takes 55 minutes.
By Tohoku-Shinkansen, from Tokyo to Shin-Aomori, it takes about 3 hours and 20 to 30 minutes.
From Shin-Aomori, by limited express on JR Oou Line, it takes about 30 to 40 minutes.
Or, from Akita, by limited express on JR Oou Line, it takes about 2 hours.
Hotels in Hirosaki
Other Tourist Attractions in Aomori Prefecture